Bahamas - Ragged Islands, Hog Cay, Another Week

SV Meshugga
Nicholas & Deidre Mace
Sun 19 Apr 2020 13:09
Another week in paradise.

Life at Hog Cay is slow. Our group decided it was Garbage burning day, so we all went ashore to the designated Garbage Fire Pit. John brought some Lighter Fluid and the men quickly had a good hot fire burning.

No Cans nor Glass is burned or taken ashore, only plastic and paper.

Nicholas and John of Shiloh



A good Garbage Fire


Nicholas, as usual, keeps busy with maintenance, servicing equipment and repairs. Here is up the mast at the first Spreader, having run a new Cat 6 cable for our external WiFi antenna.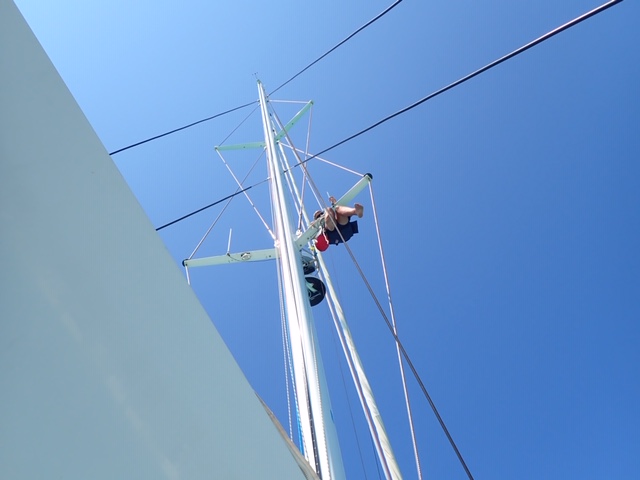 A close-up



He then spent quite a few days servicing Shilohs Freezer, as they had a problem, and Nicholas has the necessary tools and knowledge to help the. That's the spirit of Cruising, where everyone helps each other out.

Thank you Marita of AlleyCat for this beautiful Anklet


And stunning Beach Shoes.
I had remarked to Marita how beautiful the anklets and beach shoes which she often wears, and asked where she had purchased them (assuming it would be a Caribbean Island). Marita told me she makes them and a couple of days later she gifted me with these beautiful pieces. So talented! Thank you!



Every day I try to do some physical expertise, either SUPing, a long swim, snorkeling or a good walk. On Saturday I did a super 3 hour walk to the West Beaches with Marita, Holli, John and John. The walk each way is about 40 minutes, and then we troll 3 bays looking for Loot. I hunt for Sea Beads, Sea Glass, pretty shells, unusual stones.

Sea Glass I am collecting for my Tea Candle Project, with a few shells and 2 stones. Whatever Glass I don't use, I take back to the West beaches and throw them back into the sea so that they can tumble some more and become better, smoother, more opaque Sea Glass.



Every evening we either get together with our group to catch up each other's news and enjoy sundowners together, or on Meshugga I make Cocktails. Tonight's it's Pina Coladas aboard Meshugga for a Chill Out evening sunset.


Another superb Sunset



We are so lucky to be in such an idyllic place to see through the Covid-19 virus Lockdown



Take Care

Deidre Mace
SV Meshugga
E: Deidre {CHANGE TO AT} Mace {DOT} co {DOT} za
C: +1 754 213 7663
⛵️⛵️⛵️⛵️⛵️⛵️⛵️⛵️
Sent from my iPad
---