Arrived Bermuda

SV Meshugga
Nicholas & Deidre Mace
Mon 29 May 2017 20:46
32:16.99N 64:47.83W




Hi All

We arrived in St George's Harbor, Bermuda at 9am on Saturday, 5 days exactly since we left Charlotte Amalie, St Thomas, USVI.

New Meshugga is a dream to sail. We left with a superb wind pattern and rode the easterly setting wind as it clocked from North East to East, South, South West and did a big "S"bend all the way to Bermuda increasing the miles from 850 to 1000 Nm, but having a wonderful beam reach, aft quarter and downwind sail. We averaged 200 miles a day and are very happy with that. The sails were great, the Genneker stunning in light to moderate winds. Aboard was comfortable with little to no slamming. We turned the motors on only when we entered The Town Cut, a narrow entrance through heads into St Georges.
We did not manage to get Comms organized on Saturday, so sorry for this late post. On Saturday we sailed north round to Hamilton and the Great Sound, just in time to see the start of the second race of the Louis Vuitton Challenger Round Robbin 1. Racing was exciting, all more so that we have such a stunning platform to watch the AC from the Fly Bridge of Meshugga. That night we anchored next to the AC village and although extremely tired from the 5 day sail, and too tired to go party with them, we enjoyed the spectacular fireworks from the Opening Ceremony. Sunday we watched the racing again…..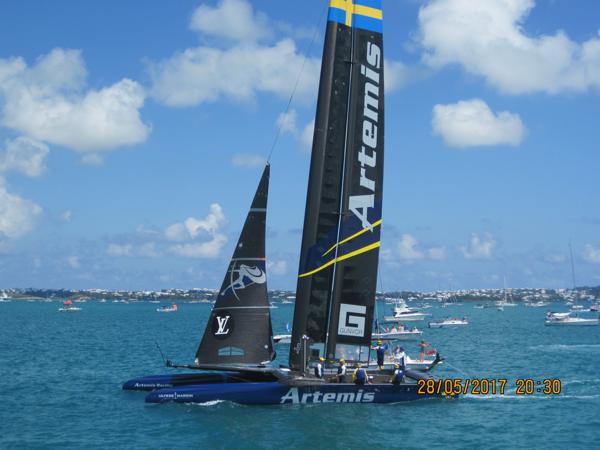 Today, Monday we are in Hamilton to get organized with local Simm cards and a TV dish so we can watch the close up action aboard the racing yachts.
Take care
---