USA - Maryland, Chesapeake, St Michaels, We're into Peak Hurricane Season

SV Meshugga
Nicholas & Deidre Mace
Sat 29 Aug 2020 23:11
We've been at St Michaels for more than a month now, and life is slow, settled and simultaneously busy with chores, maintenance and improvements.
The Miles River Yacht Club, 200m away from our anchorage kindly afforded us Reciprocity enabling us to have parcels sent to them, that could not be shipped to a USPS
Box, eg Paint, new solar panels etc. Thank you so much to Cheryl Alfes the General Manager, Commodore and Flag Officers.
We are also anchored directly off a compound of two fabulous homes owned by Judge John North III, who came out on his boat accompanied by Comber, to bid us 'Hello' and find out if we might need "Bread, Milk or Champagne", and invited us to his home for a Sunday lunchunder the trees, all socially distanced...
After lunch John asked if we were interested in 'old cars' as he had 'a few'. We accompanied him to his huge shed/garage which had at least 50 cars, each older and more beautiful, rare, and in immaculate condition.
Here's me in a Dusenberg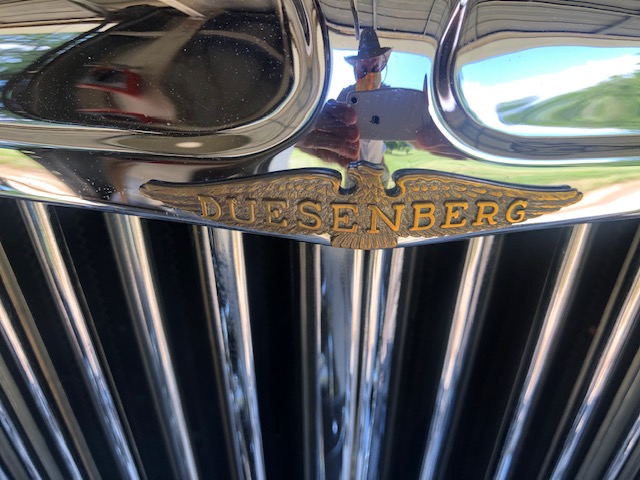 Beautiful Bugatti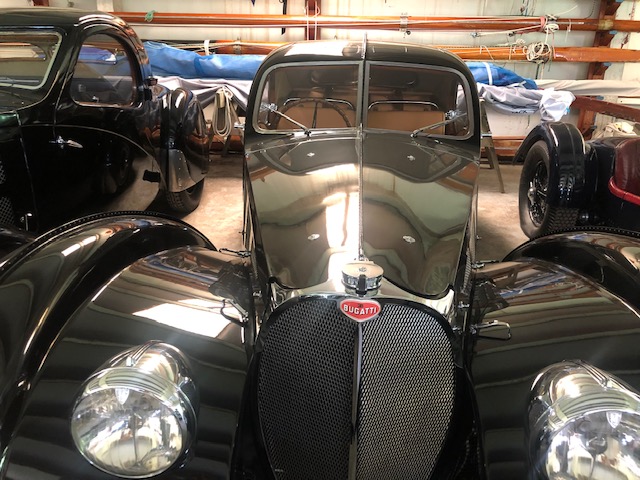 The engine inside was stunning
And of course a lovely Bottle Green MG, which both Nicholas and my dad Jerry had when they were young men.
An excellent lunch and wonderful time spent chatting with John and Comber.
We reciprocated a couple of weeks later with lunch aboard Meshugga, and more interesting conversation.
I've been busy and have made fitted 'Mattress Protectors' for our 4 cabins, thereafter making fitted sheets for all the beds too. So beds are now all fresh with new linens.



We are now well into the Peak period of Hurricane season, and on Friday night Hurricane Laura, a Category 4 Hurricane slammed into Louisiana and Texas causing huge damage. This afternoon we had the Post Tropical Depression Laura come over us, with 15 knots winds and tons of rain.

Whiteout with rain

The Yellow and Orange is the start of the next systems beginning to track across the Atlantic. It's a busy season.
We are at the Purple mark, 100 miles inland from the coast, so pretty safe if a Hurricane comes ashore close to us, or the remnants trek across the states from the Gulf.
We had left a bucket outside, and was astounded the quantity of rain - 9inches / 22 cm of rain, that the Post Tropical Depression dumped. The heavy clouds have departed and we have a light breeze and humid conditions again.
We are both well, and the good ship Meshugga is too. We go into the village a couple of times a week, to collect parcels at USPS, and dump garbage, as well as popping into the Yacht Club office when a parcel is delivered there. Otherwise we are pretty much isolated aboard Meshugga with Covid-19 still raging through the States, however a previously said, quite happy when we do go ashore that 99% of people are wearing face masks and it does lend a 'safe' atmosphere.
Take Care
Deidre Mace
SV Meshugga
E: Deidre {CHANGE TO AT} Mace {DOT} co {DOT} za
C: +1 754 213 7663
⛵️⛵️⛵️⛵️⛵️⛵️⛵️⛵️
Sent from my iPad
---