The Loop

SV Meshugga
Nicholas & Deidre Mace
Thu 22 Mar 2018 13:48
Our new adventure starts…..
The Great Loop.
Except we are doing it Anti-Clockwise - whilst most people do it Clockwise.
We are starting in Mobile, Alabama, going up various rivers and waterways to Chicago.
We'll be in Chicago for Kieran and Katie's wedding in July.
Thereafter we travel through the Great Lakes, and then south through waterways and rivers to New York City.
Then onto Newport Rhode Island where we have our mast stepped before winter shutdown somewhere mid to late November.
We left Fairhope Yacht Club on Tuesday 20 March and have 85 days available to travel 1300 miles to reach Chicago by our targeted date of 15 June.
With no mast, it's all motoring. Which means we have to be on deck, driving and watching the banks and for other water traffic.
Nicholas has erected a small mast which we have our AIS and VHF installed, as well as necessary lighting both flood lights as well as navigation.
It is cold, so we've zipped on our awnings onto our Flybridge, so we really do look a bit like a Powerboat caravan.
We'll spend our days motoring, stopping, sightseeing and experiencing inner mid USA. Our requirement is that we only do 15 miles per day, some days we'll do much more than that, and have plenty of days in the bank to stop, explore and do side trips.
These first few days have been amazing. The Mobile River, which becomes the Tombigbee Waterway is amazing. About 100m wide, deep and navigable.
Some of our night anchorages are up little Creeks, which we barely fit through. But beautiful, with lovely lakes.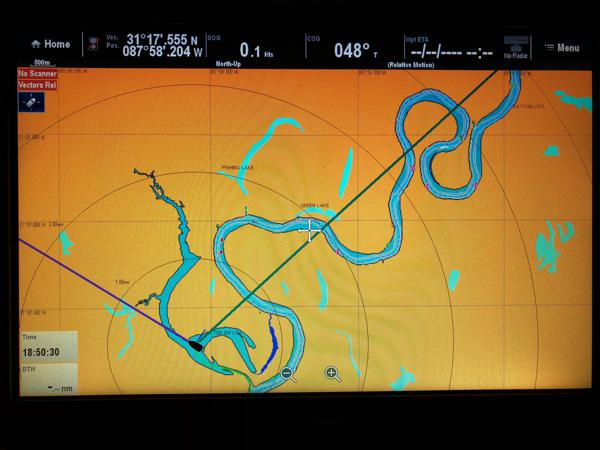 ---