Day 10 - Tenn-Tom Waterway - Pickensville

SV Meshugga
Nicholas & Deidre Mace
Thu 29 Mar 2018 22:43
33:13.646N 88:16.823W

We slept last night with windows and doors open for the first time since starting the Loop. Lovely warm evening with our new insect door screen up.

Woke this morning to a warm morning. As usual we upped anchor at 8am, motoring out of our anchorage. By 8.30am it was jackets off - surely this is going to be a lovely hot day.

Beautiful holiday houses along the Tenn-Tom





By 12, the clouds rolled in, black and menacing, and the heavens opened with big drops of rain. Up in our Fly Bridge, I quickly noticed that the roof was not watertight, and we have quite a few drips through the Canvas. A couple of bowls at stragic points helped, but cushions and all are wet. I'll need get up there with Canvas treatment and try waterproof it til we can get a new one made.

Tom Brevil Lock was not as easy as the others. We tied to the West side, and the water kept pushing us onto the lock wall, and the floating bollard lacked edges, causing me to worry that with such a small catchment area for the rope it might slip off. We dragged up the 32' wall, even though Nicholas constantly tried to distance us with the Bow Thruster and Port Engine.

Tom Brevill Lock at the top





Brevill Dam Overflow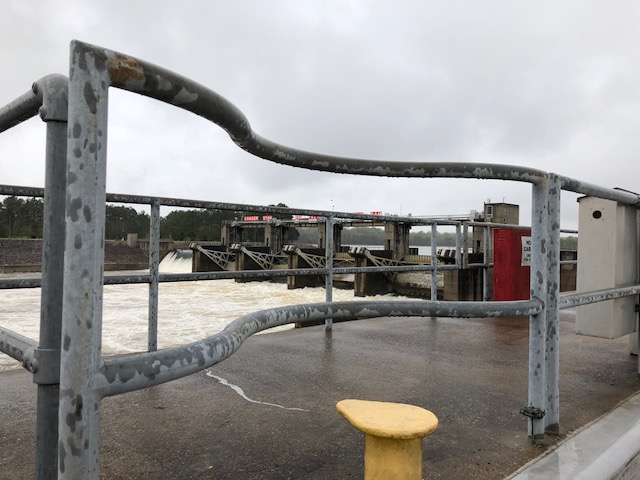 After the Lock we checked out the anchorage at the Tom Brevil Visitor Centre having read that it had Internet connection, but no luck, so we carried on til the next anchorage, and still internet no luck. So we're here anyway for the night.

It's a pretty anchorage, a few miles from Pickenville, with an RV park close by, and road in visual distance for the first time since starting.

Rain, soup in the pot, and Nicholas building our new drinks fridge.


---