Fort Lauderdale 2

SV Meshugga
Nicholas & Deidre Mace
Mon 7 Aug 2017 15:50
On Sunday we went to Jazz in the Park, which is held every 1st Sunday of the month - about an hour dingy ride in the park along New River Channel which has floating pontoons for boats to tie up. A few of us Yachties went in our dingys with blankets, picnics and wine to chill out under the trees and enjoy the Jazz Festival.




Jazz in the Park per dingy with Wes and Toni. (Thanks Patrick and Jaqueline of Cava for this photo)
Patrick, Jaqueline of Cava and Igor

Wes from Endless Summer, Toni and Nicholas
Main Jazz Band Stand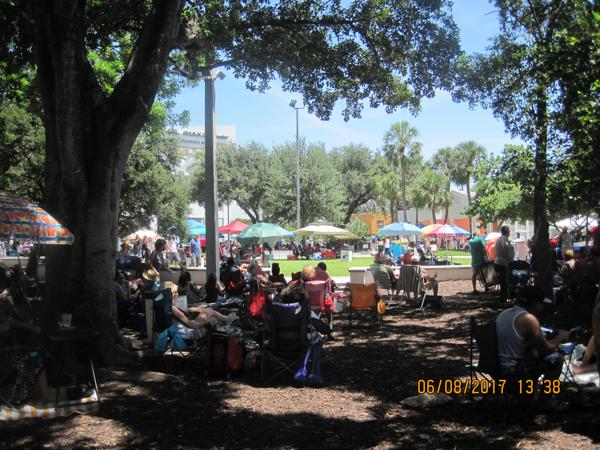 On our way back we stopped to cruise the SouthPort Beach and take in the sights on the Boardwalk.

SouthPort Beach Boulevard (thanks Toni for these photos)
A fabulous day with with good music and good company ending with a superb Italian Pasta cooked by Edorado of Bueno Vento aboard Meshugga for everyone.
Thanks Edoardo
Patrick and Jaqueline of Catamaran Cava
Wes of Endless Summer, Toni, Craige of Hideaway
We will leave Fort Lauderdale on Tuesday and go south to Miami. We are keeping a watchful eye on the Hurricane developments. A system has formed in the Gulf with a good chance of becoming a Hurricane, however it is right next to Mexico and its path should take it over into Mexico and hence no threat to us - except cloudy skies and a bit of rain.
---