Columbus, Mississippi

SV Meshugga
Nicholas & Deidre Mace
Tue 3 Apr 2018 02:07
33:29.640N 88:26.160W

We spent an awesome few days in Columbus, anchored in the Ox Bow directly alongside the town which had a jetty for easy getting ashore at the beautiful Columbus RiverWalk Park.

Iconic Water Tower



Railway Bridge over the Ox Bow, with Jetty on RHS at the RiverWalk Park



No sooner we'd dropped our anchor we had local boaters coming to say 'hello' and offer assistance to take us shopping and sightseeing.

This is Art. Airline Pilot, Tow Boat Captain and a really nice guy.
He lives in Columbus, Lowndes County, Mississippi which is home to the Mississippi University for Women.
Lowndes County is completely surrounded by "dry" counties with lots of co-ed colleges. Drinking age is 18.
1200 single girls and the only source of cold beer for 100 miles - so Art starts a nightclub (disco/bar) on his river island property; The Club.
Brilliant idea which is hugely successful – what could possibly go wrong?
Then drinking age is increased to 21, MUW admits males and the local sheriff finds religion – just too much sass for his liking and only one road in and out.
"I partied at The Club" still has over 4000 members on Facebook, despite closing 30 years ago.
Art still has his sense of humour and is one of the nicest, most helpful people we have met on our trip.

Art, his friend Leigh and me - with my super-sized water.



We took our Electric Scoozy Veego Bicycles ashore, and cycled the few blocks to the Tennessee Williams Museum, which is the house wherein he spent his early childhood. Tennessee Williams in an American playwrite of notable plays/movies such as 'Cat on a Hot Tin Roof' and 'A Street Car named Desire'.



We cycled to the stunning Antebellum (pre Civil War) home called WhiteHall, established in 1843. The current owners Carol and Joe Boggess gave us an interesting private tour - they were prepping for the Columbus Spring Festival which runs from 5 April for about 10 days. The town plays host to thousands of visitors who come to experience the history of the area and tour the numerous Antebellum Houses which were lucky to escape the 'Damm Yankees' and their Scorched Earth Policy post Civil War.




Formal Lounge. Beautiful crystal chandeliers throughout. Wall paper over 70 years old.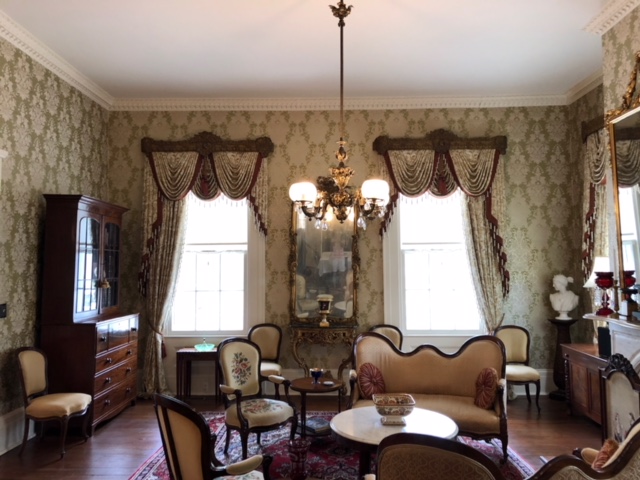 Every room had a stunning original working Fire Place




Carol Boggess explaining the 'Courting Couch'




Canopy Beds throughout. Swags and Tails on all windows




More sightseeing in the Historical Town areas...
I loved the old Fire Engine on display



.
Many beautiful old churches



Remembrance of fallen Civil War soldiers

---