Fort Lauderdale 1

SV Meshugga
Nicholas & Deidre Mace
Sat 5 Aug 2017 11:27
Last photo of Nicholas with long hair - enjoying Frozen Margaritas in 35 deg weather
We are still in Fort Lauderdale. Lots of tasks attended to like our new solar panels installed onto of our fly bridge awning and wind generators repositioned on better, taller support poles. Although hot and very sunny, we have almost no wind, and have already reduced the time we daily run our generator from 3 1/2 hours to 1 hour. We are happy with 1 hour per day, as we would normally be making water during that hour etc.

Sewing the webbing onto the awning
Nicholas attaching the cables and solar panels


We have also had our EPIRBs reprogrammed with our new MMSI number, however are still waiting for Raymarine to send back our AIS as that too is being reprogrammed. Up to now, we have been reflected on AIS etc as the old boat name, and officials were limited in their understanding of our situation that there are no Agents in BVIs or Bermuda who could do the reprogramming, and as EPIRBs and AIS units are not allowed to fly put us into a catch 22 situation. However now that we are in America where everything is possible - all units were carefully bubble wrapped and sent off via road freight, and it's just a waiting game to get all our bits and pieces back and reinstalled.

We are anchored on a lovely lake, Lake Sylvia, surrounded by Gazillionaire homes. All empty during the week, and then on weekends a few get opened up and our lake gets busier with local boats out, swimmers, SUPs, jet skis, etc. The downside is that with all the properties being with lake and waterway frontage there is almost nowhere to get ashore or to leave the dingy. We all use a local restaurant called The Raw Bar, who charges $10 for dingy parking, but one can offset the fee against food and drinks. Not too bad, after a day/few hours ashore shopping or sightseeing in 35deg heat it's great to get back to the verandah overlooking our dingy parking and have a couple of beers paid for by our parking chit.


We have about 12 yachts anchored in the lake, 3 Lagoons and the rest small monohulls - all in a nice bunch of cruising folks of different nationalities. Meshugga is the biggest, and hence the party/bbq boat - often with 'come over for drinks' ending up as late night/early morning informal dinner parties.


The waterways are amazing. Earlier this week we went by dingy to fetch our new Sunbed cushions from the Lagoon distributor. We motored for more than 2 hours through town up the New River, i.e. an offshoot from the Intercostal Waterways. Totally unbelievable that they have so much/many canals and rivers all navigable with huge yachts going up them - only mast height is a problem where there are overhead cables and a lot of the new bridges are fixed at 65". And boats galore. Almost every property has at least one boat parked out front, and marinas everywhere chockablock with both sail and power boats.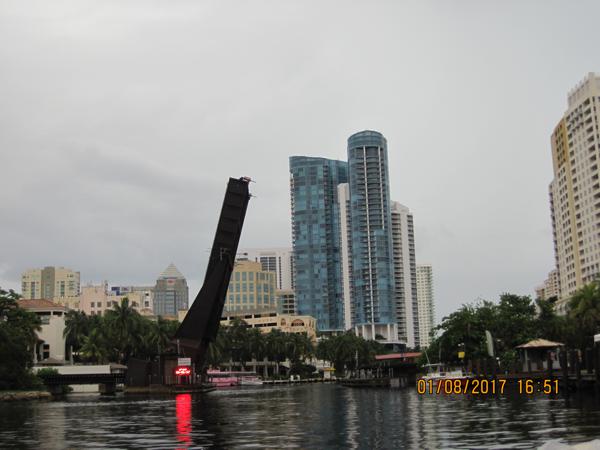 Got caught in the rain, and we took refuge under these trees of the beautiful home.
And later enjoying draft beer in the Irish Pub waiting for the rain to subside

Take care, and apologies again for being so tardy in updating this blog. Think I will diarise with an alarm on a weekly basis to remind me to post.
Living aboard as a cruiser, the day's all seem to merge and I loose track of what day of the week it is, let alone remembering what date or month we are in.

---