Bahamas - Hogsty Reef

SV Meshugga
Nicholas & Deidre Mace
Mon 10 Feb 2020 20:29
21:41.55N 73:50.94W

We had a lovely Full Moon overnight sail with our Genneker, arriving at about 8am with good sunlight to navigate and anchor at Hogsty Reef.

Hogsty Reef is the closest thing one will find to a True Atoll in the Northern Atlantic Ocean, bearing in mind that the Indian and Pacific Ocean has over 400 Atolls. So we made a point of diverting to it to do some snorkeling and visit one of the two cays on the reef rim.

The Atoll is 3 miles x 5 miles, and with the wind direction from the East, and wind speed at about 20 knots, we would not get any good protection within the Atoll, so we anchored on the outside of the Atoll in the lee of Northwest Cay.




We dived midday with and was rewarded with good visibility. Unfortunately the reef was not as abundant with fish as we expected, but it was still a good dive.

Excellent coral formations




I think this is a Rainbow Parrot Fish....



Evidence of shipwrecks



At first I thought this rope was from a shipwreck, but it looked so new and then found more looped around a large rock as an anchor, which the Fishing boats must have set up.


Look how thick the rope is......, that's my gloved hand holding the rope.


Rope looped around and end floating on the water surface.



Inquisitive but wary Butterfly fish



Branching Fire Coral



This Conch was this way up, ie upside down, so I first thought it was an empty shell. I dived down and on close inspection could see the animal inside.
You can just see him, as he pulls his foot more inside his shell.
Yum.....but we did not take him.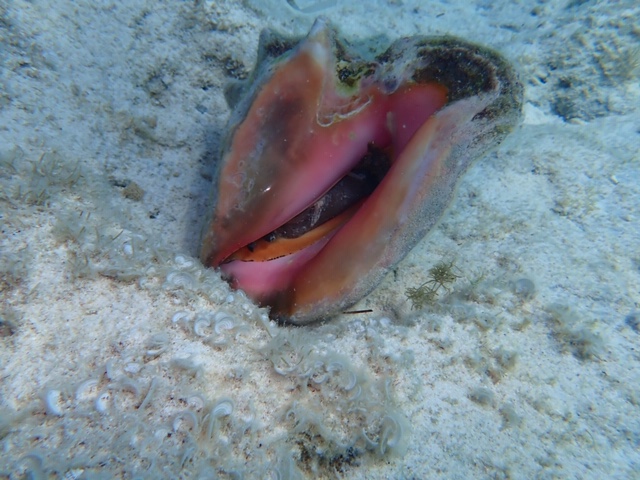 Ashore on Northwest Cay. It is about 200m long x 50m wide.
Facing north.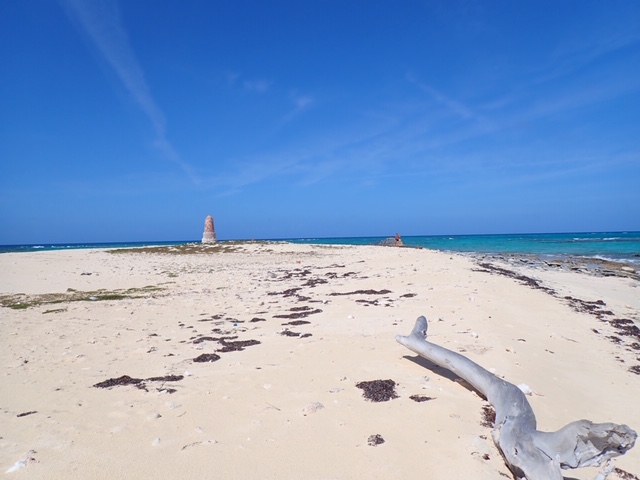 Facing South.



Facing East, the windward shore looking into the Atoll


Facing west.



Fallen Casuarina Tree. This shows up even on the Navigation Charts, so must have been on this Cay for many years.




SeaFerns washed ashore. I pickup up the purple one, hopefully it will dry retaining it's color.



Shipwrecks....



The 2m Stone Cairn



Meshugga close in at anchor. The sea bed shelves quickly and within 200m from the shore the depths are below 100m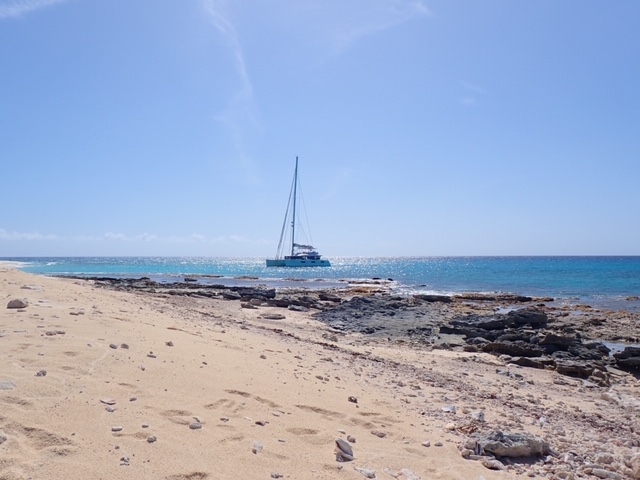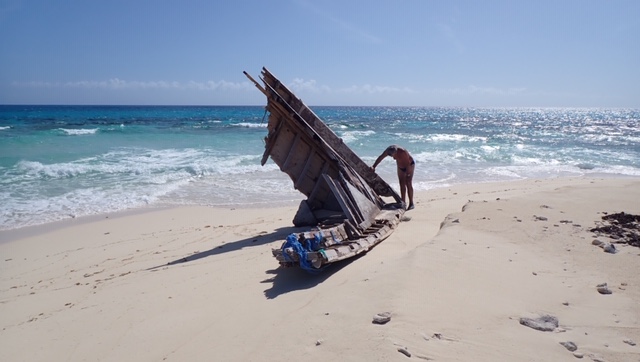 Water temps are already down from 30deg in Grenada to 26.5deg, and I get cold snorkeling, so it back into my Neoprene Rash vest.



We swam back to Meshugga and found this small Barracuda hanging about behind Meshugga. The water clarity and color was amazing.



We spent two days at Hogsty Reef, and then it was time time to up anchor and set sail for our next adventure.

Take Care

Deidre Mace
SV Meshugga
E: Deidre {CHANGE TO AT} Mace {DOT} co {DOT} za
C: +1 754 213 7663
⛵️⛵️⛵️⛵️⛵️⛵️⛵️⛵️
Sent from my iPad
---