St Lucia - Marigot & the Pitons

SV Meshugga
Nicholas & Deidre Mace
Tue 28 May 2019 16:30
13:58.027N 61:1.69W

Carnival Sailing Charter boats, en-route Rodney Bay to Marigot



Mariot Bay, Doolittle's Beach, seen from inside the lagoon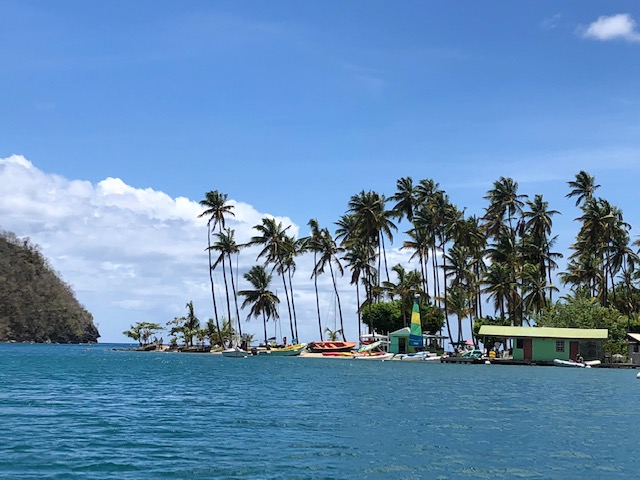 Marigot Marina almost empty with the Cruising season coming to an end


Marina Hotel


View of Doolittle's from Meshugga


Catching up on the Internet at Doolittle's


Dinghy docks



Having checked out with Customs, we were able to fill up with Duty Free Diesel.



After fueling, we left Marigot and sailed south. Still in St Lucia, we stopped overnight between the two Pitons, on the left Petite Piton, and on the right, Gros Piton. It's in the Marine park, so we had to pick up a mooring at US$20 for the night. Beautiful anchorage, until the wind came screaming, tunneling around the mountains. After weeks of not a breath of wind at night, the night wind was totally unexpected and continued right through the night. With a deep water mooring in 27m, and sharp drop off, I spent a restless night worrying if Meshugga would drag the Marine mooring, and have it dangling in over 100m of water within 5 meters of dragging.

For Capetonians, it's the same effect we have around Lions Head.



Take Care

Deidre Mace
SV Meshugga
E: Deidre {CHANGE TO AT} Mace {DOT} co {DOT} za
C: +1 754 213 7663
⛵️⛵️⛵️⛵️⛵️⛵️⛵️⛵️
Sent from my iPad
---