Peoria Thank you

SV Meshugga
Nicholas & Deidre Mace
Tue 29 May 2018 14:14
Dear Peoria

Thank you for an amazing 2 weeks.

I flew to South Africa to see my mum who was in hospital on Life Support. During that time she got worse, and we thought she would pass, but miracles, she is one strong old lady, and pulled through. By the time I left her, she was OFF Life Support, sitting up and chatting. Thank you all for your thoughts and prayers for her. I returned to Peoria on Thursday 24 May.

Nicholas had remained on Meshugga anchored in the river opposite the 'Spirit of Peoria', and we hear Meshugga was being called the 'Ghost Boat', with much interest by locals as she is clearly seen from both shores, and both bridges.



I was tracked down (through my Uber driver, Stephen, who had taken me to the airport) by local radio station 1470/100.3 WMBD Radio, and we were invited on 'The Greg and Dan Morning show' on Friday 25 May.



We have loved being in Peoria, and the hundreds of boats and people that have come by Meshugga to say 'Hello', especially over the hot Memorial Day Weekend.

Bertie and Kenny on their stunning powerboat, one of the hundreds of boats that stopped by to say 'Hello'.



Of special mention must be Wes and Lorry, and their friends Todd and Kim whom we invited aboard;

Larry and Wes on their powerboat



Also to Jason and Stephanie who reached out to us, who have dreams of Cruising one day aboard a boat. Our definite recommendation is "Just do It", it's an Amazing Lifestyle.

L-R: Todd, Wes, Lorry, Kim, Nicholas, Deidré, Stephanie and Jason aboard Meshugga



We met Kim and Todd at Kuchies's for Sunday Brunch and their must have signature Bloody Marys.



Deidré with Kuchie's Bloody Mary with Treats



Kim and Todd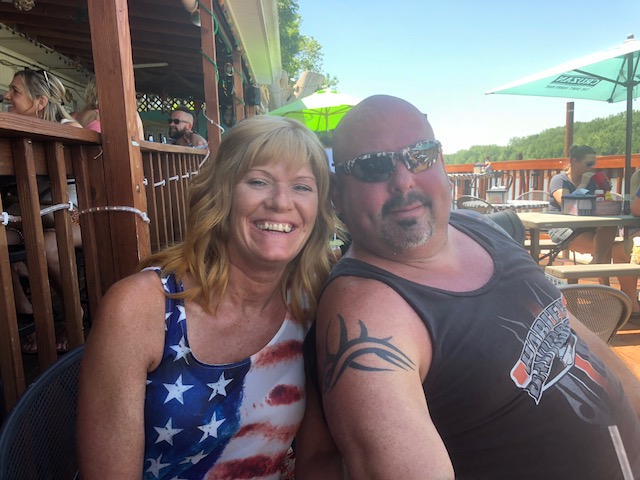 I must commend the awesome Saturday Farmers Market at the Waterfront. Excellent organic Veges, Free Range Eggs, fresh cheeses and curds, and to die for homemade Sourdough Bread from home kitchen 'Ardor'.

Deidré with giant Abe Lincoln and the 'Common Man'



Anniversary Flowers to brighten our cockpit



Thank you Peoria
---