Puerto Rico - San Juan Old City

SV Meshugga
Nicholas & Deidre Mace
Thu 30 Jan 2020 18:14
Our Tour around San Juan Historical Old City on our bicycles.



We started our Bicycle Tour of the Old City from Club Nautico de San Juan, and cycled directly north across the narrow San Juan Islet to the north shore, and was incredibly surprised to find the most beautiful beach.



To the left of the beach were good waves with surfers.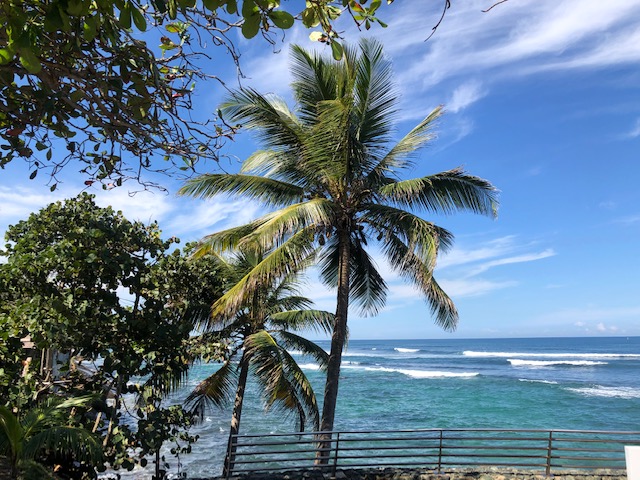 On the eastern end of the Islet is Look out Fort.......


And just beyond/ to the south of the Fort, the most delightful small beach and pristinely calm bay



We then cycled along the northern shore, with an excellent wide pavement, and a cycling lane, stopping many times to take in the awesome view and historical runs.



Couldn't work out who this chap is supposed to be.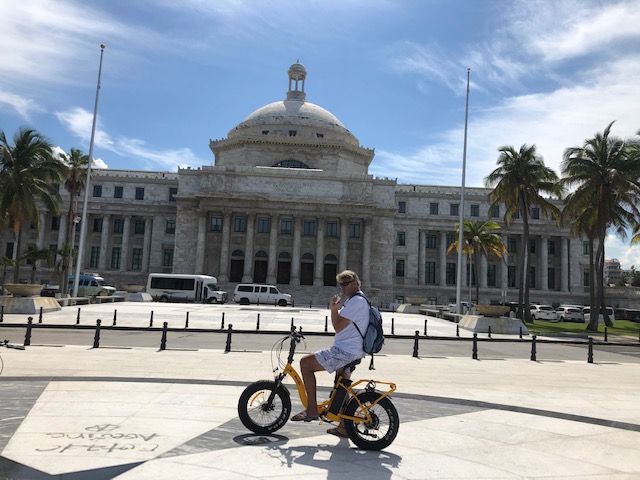 Christopher Columbus, or as the Spanish call him - Cristobal Colón


The Cruise Ship dock for Cruise ships that are on Day Stops within a Cruise - discharging hundreds/thousands of passengers daily and making the Historical Town very busy with tourists.


Tarpon




We decided to visit only one of the two Forts, and chose Castillo San Felipe de Morro, based on the Reviews on Google. The walk between Castillo San Cristobel and San Felipe is a brisk 30 minutes.



The Fort has a Dry Moat around it.


Clear sloping landscape on the islet/south side of the Fort. No trees - clear view incase of attack.



Depiction of the Historical City with the Fortification of the City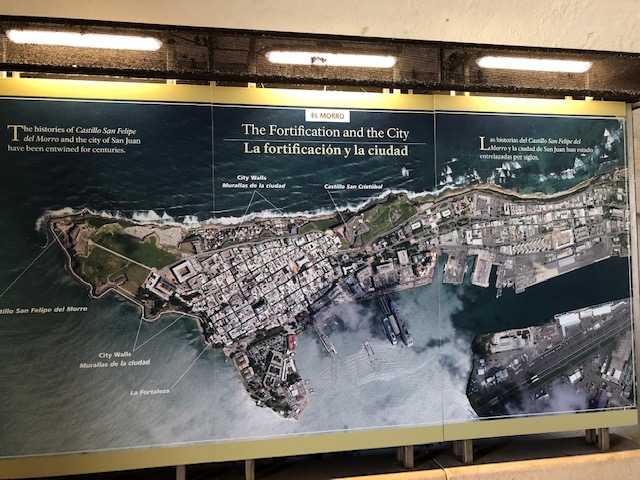 Incredible views from the top of the Fort. No ship would be able to get into the Harbor past this Fort.


The Jail. The fort dates to the mid 1700's and the wall are a good meter thick. Inside was cool even in the hot midday sun.



Original 1700's Lighthouse




Battlements. The semi-circular rails allowed the cannons to be rotated/pivoted to cover a wider angle for attacking inbound ships.


The ramp in front of Nicholas was used to manually pull armaments between different levels in the Fort. Steps on either side, with staged landing, shows that people pulled the armaments, ie not horses or donkeys. It must have been a huge manual undertaking.



The old town is delightful. All the roads are cobbled narrow one ways. Bars and restaurants everywhere, shops and souvenirs. Buildings are generally 2 floors, with accommodation on the top floor. Many small hotels and guest houses all over the islet.



We can highly recommend any traveler by air or sea, to visit the Old Historical San Juan. You can easily spend 3 days exploring, especially if on foot, although bicycles can be hired close to the Cruise Terminal. A longer stay is needed if you're going to be lounging on the beaches and visiting the outlying sites in Arecibo.

We would however NOT recommend the 'normal' town and surrounds. It is pretty much 3rd world with pot holes in the streets and burglar guards on every shop and house. Take care with visible jewelry and expensive trappings. The traffic everywhere is quite horrendous. Taxi's are very expensive and it's better to hire a car if you're going to be driving around or victualling your boat. Google Maps if driving is essential.

Take Care



Deidre Mace
SV Meshugga
E: Deidre {CHANGE TO AT} Mace {DOT} co {DOT} za
C: +1 754 213 7663
⛵️⛵️⛵️⛵️⛵️⛵️⛵️⛵️
Sent from my iPad
---