Bermuda - 8 Long Island, Coastline to Grotto Bay

SV Meshugga
Nicholas & Deidre Mace
Thu 6 Jul 2017 19:58
All our visitors have left, and we are alone again, except for the numerous local boats and people around us. And a wedding over the weekend at this stunning event venue opposite where we were anchored.

Wedding Venue
Weekend locals raft up and party the entire weekend. Free music, unfortunately mostly Rapp.
Pretty cove to swim to from Meshugga
Sheep on the islands
We ordered new cables from Amazon for our TracPhone, as our existing ones old Meshugga were too short.
Those arrived and we've cabled up the dome to the 'red box' and are now once again, at long last, back on-line on Meshugga via Satellite, whilst crossing oceans etc. This is really important to us, enabling us to stay in touch with everyone, and to download Weather Gribs as the Hurricane Season has started. Every day we download the new Gribs and get updates from Noaa as to whether any Hurricanes are forming.
Right now all looks good, the potential Hurricane Forth (6th possible Hurricane this year), is downgraded to a Tropical depression and hence max winds about 30 knots. For those Capetoners - that's much less than when our South Easter gives us good blow. Another nice weather system is starting which will allow us to do a big curve southward towards the USA east coast with winds on the beam and aft, making for comfortable sailing. We will probably leave Bermuda on Sunday 9 July. We have moved up to Castle Harbor and later today or tomorrow we will go to St Georges to clear out of Customs
Interesting Cave, we did not stop to investigate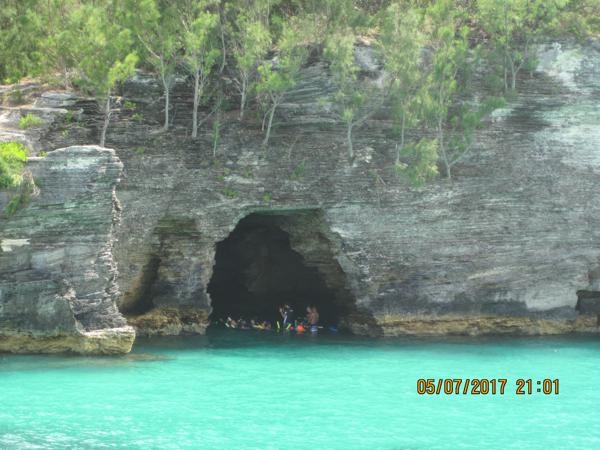 The Bermudian Houses are so colorful
This House is amazing - probably the Governors Mansion
Pretty Bay, too shallow for Meshugga
The weather in Bermuda the last 2 days has been squally, overcast and humid. No sooner that we open our hatches, that the wind gets up and we run around closing the hatches again. The water remains wonderfully warm to swim at 28 deg C, and our days have been spent chilling, reading and swimming, in-between a few onboard daily chores.
Take Care
---