Havana, Cuba

SV Meshugga
Nicholas & Deidre Mace
Mon 1 Jan 2018 18:52
Unfortunately with such bad Internet and zero cell phones, we had not booked a Casa in Havana, and arriving late in the day, our Taxi Driver had a friend with a Casa (as they all do), it was perfectly clean with en-suite, but not a walkable distance to Havana Old Town area, and it was irritating to catch taxi's every time we went out.
Our days in Havana were spent sightseeing, and nights out at fun spots Connor and Genne found either on the Web, or via recommendation from their friends.
Our choice of restaurants and bars were chosen for music, and we literally followed our ears.
Food was generally simple, uninteresting, and the same in all the restaurants.
Their national meat is Pork, and we often chose the Local Speciality Cuban Meals, and I was incredibly unimpressed. For most times it was shredded pork with boiled vegetables. We found that their Lamb, at the same price, was excellent, and I had some of the best Lamb meal ever with Lamb falling off the bone.
Nicholas and I did Havana 3 times. First with Connor and Genne for 4 days. Then with Jenny for another 4 days. And finally after Jenny left for a further 2 days on our own. So after 10 days in the city, we pretty much feel that we've seen and done Havana.
Our accommodation with Jenny was location perfect, just off Angel Square with a guest lounge and balcony, but the rooms were crummy, and our basin leaked from the pedestal onto the floor and we had water everywhere. After Jenny left, we went on the hunt, knocking on every door showing the Casa logo, and found an excellent Casa Complete, which is a Complete Apartment. Stunning, with 2 bedrooms, big shared bathroom, lounge, dining room, kitchen and private balcony in an excellent location again off Angel Square, a block from the Museum de Revolution - we know after our first 2 experiences that we'd found a gem, and only 10Cuc more than we'd paid at the first two Casas.
Below is photos and Highlights of the Best in Havana;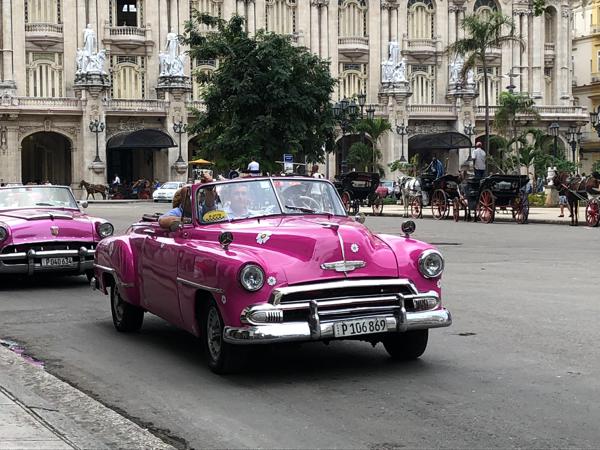 ---