Bahamas - Ragged Islands, Hog Cay, Beach Walks & Mailboat Supply Ship

SV Meshugga
Nicholas & Deidre Mace
Sun 3 May 2020 17:21
Another week has passed and highlights are our numerous beach walks and the arrival of the Mailboat with our Victuals.

This walk I did alone, across the island to South Beach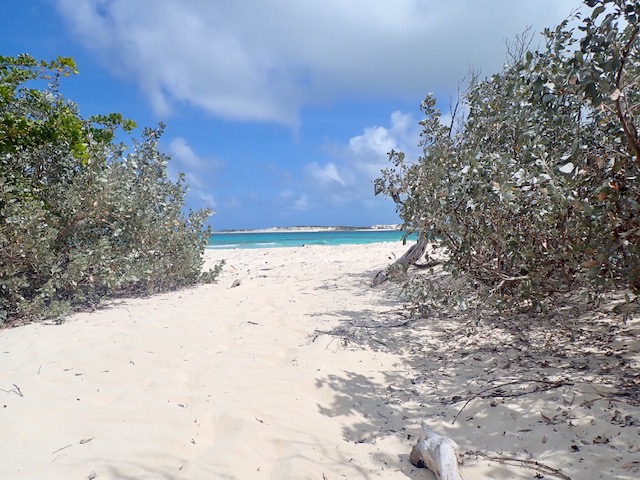 Dinghy waiting safely for my return


Heading back to our anchorage



The last time we shopped was early March, and as it's now beginning of May, we have largely run out of all fresh fruits, vegetables and eggs on Meshugga. Otherwise we are well stocked with dry and canned goods. We, along with many other yachts, placed an order with Super Value, a grocery store in Nassau, Bahamas who kindly have their staff pack our goods and deliver them to the Mailboat, Captain C, which comes to Ragged Island every 10 days.

It's Saturday 2 May, and the Captain C has arrived and docked at the Ragged Island Government Dock, which is about 2 miles south of Hog Cay.



Cruisers gathering, waiting for our goods to be offloaded. Generally the ship offloads the goods for Duncan Town first, you can see the vacuum packed pallets in the foreground.


Yacht boxes are stacked separately, each box well labeled. These are all dry and canned goods, and we're all hanging around waiting for the refrigerated and frozen goods to be brought out. All boxes are stacked per yacht by the mailboat staff, once they retreat back onto the ship, we collect our boxes thus minimizing any interaction with the mailboat staff.



Eggs separately bundled and labeled 'Fragile'. You still end up with a couple of cracked eggs in each tray, but nothing to worry about. So grateful to be able to get Fresh Produce in our remote uninhabited Hog Cay.



Long John and John, everybody is well kitted out with masks and gloves.
This is our only vulnerable period, as we are interacting with the staff on the Mailboat which comes from Nassau where there are numerous cases of Covid-19. All Cruisers in our group have undertaken to be careful, wear masks and gloves, and keep the 2m distance from the Mailboat staff. Our group of Cruisers have all been isolated from outsiders for 2 months, so we have a great Quaranteam Group or 'Clean Cruisers'.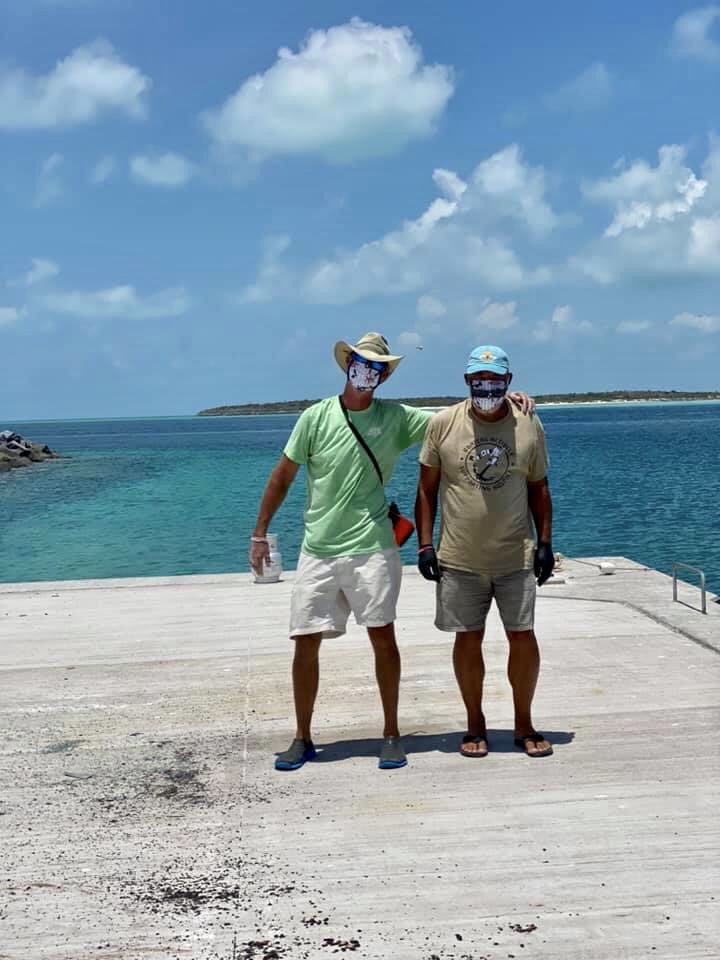 As we have a large dinghy we came by dinghy to collect our supplies and filled Propane bottles


Nicholas...


The others, came down in their 'big boats'...


Another day, and another walk, this time 6 of us to the East beaches which we call Sea Glass Beach.
Holli and Marita crossing the rocky outcrops between the beaches


The boys, John, Alan and Long John. John with his beach shopping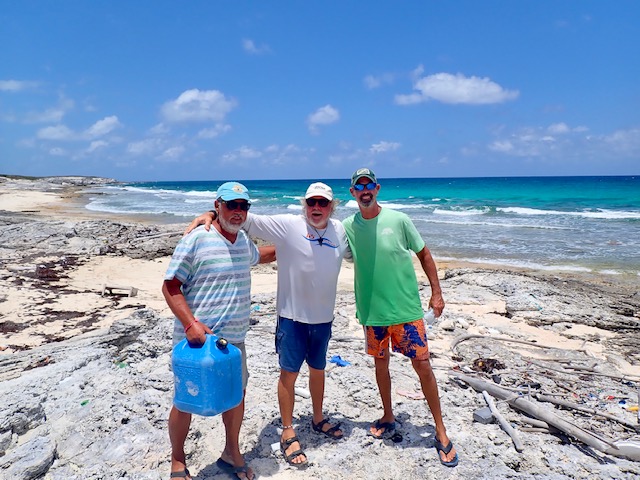 The dried Pan on the trail en route across the island back to our anchorage



Take Care

Deidre Mace
SV Meshugga
E: Deidre {CHANGE TO AT} Mace {DOT} co {DOT} za
C: +1 754 213 7663
⛵️⛵️⛵️⛵️⛵️⛵️⛵️⛵️
Sent from my iPad
---