Bahamas - Great Exuma, George Town

SV Meshugga
Nicholas & Deidre Mace
Thu 27 Feb 2020 21:15
23:30.44N 75:45.54W

Our stay in Water Cay was cut short as we had an accident on Meshugga.
Nicholas cut his fingers with a circular saw, the middle one extremely badly.
We upped anchor next morning to get to George Town Hospital as he needed stitches and the infection and pain was very bad, and we were concerned with sepsis and potential loss of the finger. We obviously cleaned the wounds, applied antibiotic gel to the wounds, started oral antibiotics and pain meds.
I'm not showing you the fingers, the wounds are gross.


Our trip took 2 days, as we can only travel across the Bahamas Banks during the daylight.


We anchored between George Town and Stocking Island.
This is the dinghy entrance to Lake Victoria, and calm section of water in the center of George Town.


The dinghy jetty at Exuma Market, and the main/only easy place for cruisers to get ashore in George Town.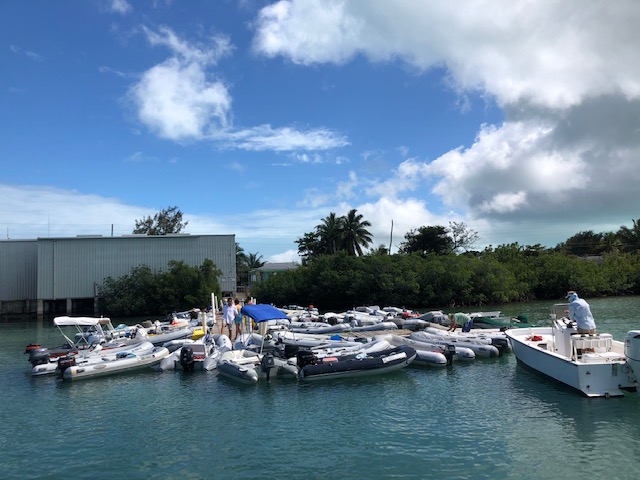 On arrival in George Town, before going to the Hospital, we had to clear-in with Customs and Immigration as the Administration Office in Duncan Town, Ragged Island had been closed (remember a few blogs ago).



After clearing-in we went by dinghy to the Local Hospital near Fish Fry Beach, about 2 miles north of Elizabeth Harbour.



They cleaned Nicholas' fingers, gave him a Tetanus and Antibiotic shot, and different oral antibiotics than what he was already on - one better for Skin Infections. Unfortunately they only do stitches within 24 hours. It would be a long troubling painful few weeks ahead of us whilst we took care of the fingers and hoped and prayed that the infection abated, and sepsis would not set in.

A few days later we went back ashore to do some sightseeing and shopping.

Exuma Market, the main grocery store, very well stocked especially with lots of fresh produce from USA which arrives every Monday, available Tuesday.



The local Straw Market


This lady Doralee, made this basket for me to my exact measurements


Back aboard Meshugga, the basket is perfect for my beer cosies.


Top 2 Bottom, the Marine Chandlery, Hardware Store and just about everything else


Local Church


Pub at Peace & Plenty Hotel


Lots of local outlets like this


Choppies Bar at Exuma Yacht Club, for excellent Rum Punches and beer with free Wi-Fi, where we spent a couple of hours updating our Apps and Operating Systems.


View from Choppies Bar out to the anchorage.



Take Care

Deidre Mace
SV Meshugga
E: Deidre {CHANGE TO AT} Mace {DOT} co {DOT} za
C: +1 754 213 7663
⛵️⛵️⛵️⛵️⛵️⛵️⛵️⛵️
Sent from my iPad
---