Martinique - Day tripping

SV Meshugga
Nicholas & Deidre Mace
Wed 15 May 2019 19:30

Our parcel from Italy with the Furler gearing had arrived in Martinique, and the paperwork from the supplier was not correct, causing Customs via DHL to ask us to pay 100% import duty - a whopping 2400 EU.

So we hired a car from Avis, located in the Marina office, and drove to the Airport Freight Zone firstly to DHL to collect the import and parcel documents and then to Customs to try explain the suppliers errors and plead for them to inspect the parcel. Yachts in Transit that are foreign yachts, not EU, are allowed to import certain yacht item duty free - and our furler gearing fell into that category. The caveat is that if the incorrect import code is used on the Airway Bill - you pay duty.

We were pleasantly surprised and impressed - the Customs Officer, with limited English, listened to our story, inspected the paperwork, asked a few questions, and then approved the Duty Free status - YAY.

We then had the rest of the day with our Avis car to tour the island.
We headed overland to the East Coast, traveling over mountainous Rain Forest areas, and then down to flatlands with waving sugarcane and banana plantations.

Small villages dotted our drive - with nothing really to stop and see.
As we'd already done the north coast from St Pierre, we continued onto the East coast and found the land flat and bays shallow, with numerous reefs dotting around the coastline. We stopped in at La Vauclin, a haven for wind and kite surfers - a hot day and we need hydration - cold beers.

Our little Avis hire car



K'Bana for beers



La Vauclin Bay, very little wind today and no kiteboarders out



Continuing our drive we hugged the coast as best as possible, but the south coast has deep shallow mangrove bays with no habitation and no roads, so we ended up skirting around to the St Anne headland, to the famed Anse De Saline which is said to be the most beautiful beach in Martinique.....



We picnicked on excellent French crusty baguettes, Brie, sausison and beers, in the shade under palm trees, and fed a lovely wild cat on sausison.



Later we did a Mangrove walk on boardwalks through Mangroves and over a Mangrove swamp with interesting informational boards. We saw loads of crabs.



Thick Mangroves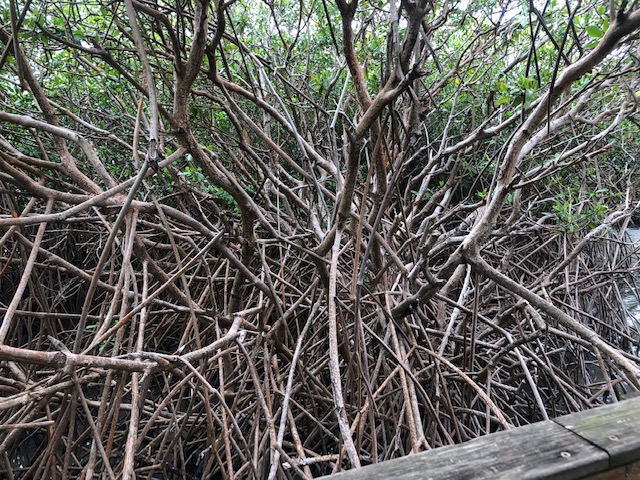 Walk way across the mangrove lagoon



Viewing hideout to watch birds




Mud crabs




Leaving Anse de Saline, we drove through farmland in the south Martinique to do an hour walk to Baie de Anglais.



This is the closest we could get to the water, without bundu-bashing.
View down to Baie de Anglais




Trap used by fishermen to catch large crabs. A piece of sugarcane is used as bait. The trap is set over a large crab hole. When the sugarcane is pulled the rock collapses the lid trapping the crab in the box simultaneously closing its escape route back into its hole.


On our way home we detoured to the historic Le Moulin de Val d'Or windmill - a little strange that it did not have the usual windmill, but is rather turned by donkeys walking round and round.....





See - no windmill





Take Care

Deidre Mace
SV Meshugga
E: Deidre {CHANGE TO AT} Mace {DOT} co {DOT} za
C: +1 754 213 7663
⛵️⛵️⛵️⛵️⛵️⛵️⛵️⛵️
Sent from my iPad
---