Day 5 - Chickasaw Bogue

SV Meshugga
Nicholas & Deidre Mace
Sat 24 Mar 2018 00:08
32:17.547N 87:55.274W

What an experience.
Our anchorage tonight is a narrow little creek. Meshugga could hardly fit through. Branches and leaves touching either side of us.

We had expected a widening at the entrance of another creek into Chickasaw Bogue, but that did not happen, and we eventually anchored fore and aft, wondering how we'd get out next morning.

Further we had trepidation with reading that IF the Demopolis Dam, up river, closes their water gates, that the 'pool' level might drop and leave us stuck.....

Morning confirmed our fear, and the water level had dropped by 1 foot. A lot given that we were only in 7 foot of water.

Our next concern was how to get out of the bogue - reversing was not an option incase we hit any submerged trees with the props.

The gods smiled on us when we picked up our two anchors, the stern anchor dragged us at a 90 deg angle across the water, and with the use of the Bow Thruster, we gently nudged Meshugga's bow through, and by some miracle turned us 180 deg round.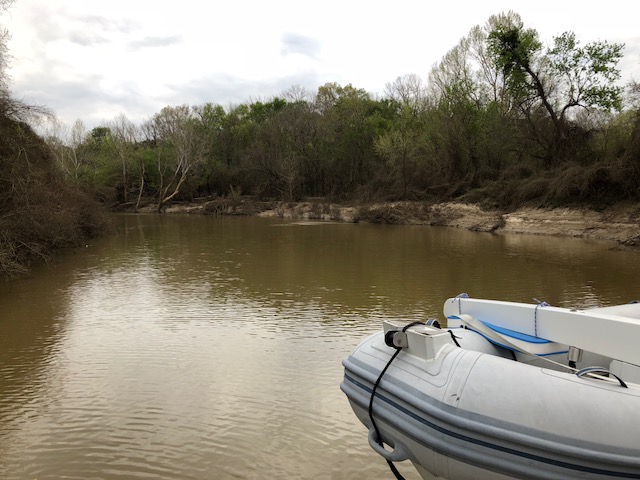 Pano of bogue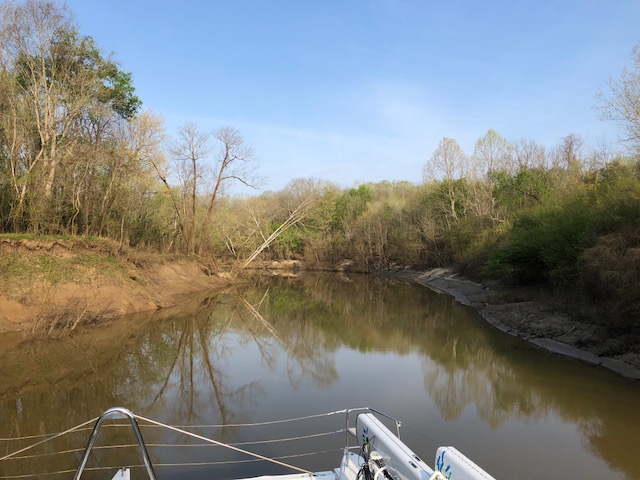 At the bar, although we got stuck in the sand, we were able to power through it - I'm sure our skegs have a little less paint on them now...
---