Bermuda - USA 1

SV Meshugga
Nicholas & Deidre Mace
Tue 11 Jul 2017 15:28






Day 1, and all is well aboard.

We left St George, Bermuda heading directly south and sailing over the Challenger and Platagenet Banks hoping to catch fish, without luck, before turning onto our course to USA of 235 deg.

We flew full main and the Genneker til about 10pm last night when the wind got up to about 20 knots apparent, so we furled the Genneker and rolled out the Genoa. A stunning full moon lighting up the skies.

At 2.30am all the alarms went off as we had a couple of incoming squalls. That kept me up for an hour and a half with alarms and the wind of over 30kn apparent. We road out the wind, and then all settled back down to 20 knots.




Today, the wind is on the beam, 20 knots apparent and seas 2-3m. Sun is shining with a few scattered clouds.

Nicholas put his rod out when he got up and about 9am we had a Marlin strike - a really big one - jumping and going wild.

Unfortunately it was on one of his smaller rods/reels and the Marlin quickly stripped out the 400m of line with the drag on full, it didn't help that we were also sailing at 8.5kn with no time to slow the boat down, so that took just a couple of minutes for the reel to be empty.

The Marlin continued to jump and thrash his head - I hope he is able to shake the lure out.




A few photos of life at sea on an ocean crossing.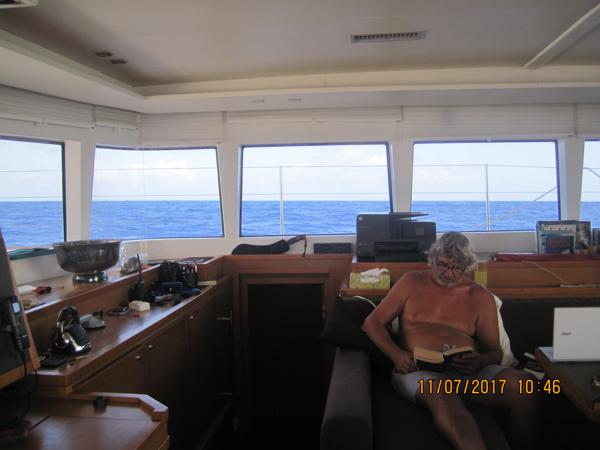 Take Care
---