Luxor, Ægypten

Hvor sejler LOUSILL ?
Anne-Marie og Peter Skov
Fri 3 Apr 2009 21:44
Vi har, sammen med mange af de andre både, været på en tur til Luxor. Her er nogle af de steder vi besøgte.
Karnack Tempel da.wikipedia.org/wiki/Templet_i_Karnak
Hatshepsut Temple en.wikipedia.org/wiki/Hatshepsut
Utrolige flotte farvet relieffer fra 2500 før Kf.
På et alabast værksted og udstilling.
The Vally of the Kings - de graver stadig og finder jævnligt begravelses pladser. en.wikipedia.org/wiki/Valley_of_the_Kings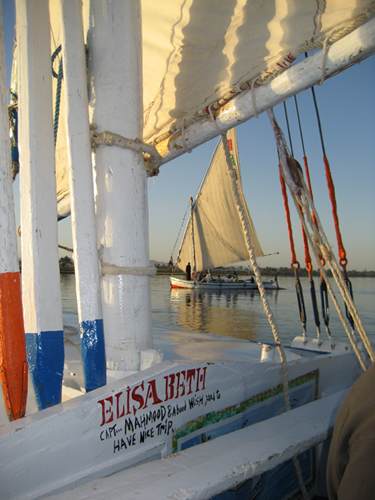 På felucca tur på Nilen.
På tur igennem Luxors gader i hestevogn. Herligt at se det hele lidt overfra.
Luxor Tempel -- en.wikipedia.org/wiki/Luxor_Temple
Ship Ohøj fra Lousill
---