Sri Lanka by bus. 2.

Hvor sejler LOUSILL ?
Anne-Marie og Peter Skov
Thu 22 Jan 2009 06:00
06:02.041N 80:13.857E
Tempel of the Tooth er bygget op omkring et relikvie. relikviet er en tand fra selveste Budda. Det er det helligste og mest betydligste helligdom for budister. Der kommer pilgrimme fra hele verden for at få et glimt af tanden. Den blev dog vist frem sidste gang i 2004, og det er altid kun i august/sep. hvor der er en stor festival med optog til ære for tanden. Traditionelt er det den opfattelse, at den der har magten over tanden har retten til at regere landet.
Efter besøget i templet kørte vi op til Amaya Hills hotel og fik tid til en lille svømmetur i poolen inden vi om eftermiddagen ( nogen af os) skulle bestige Sigiriya klippen. Det er en 200 m høj meget stejl klippe, hvor der på toppen tidligere har været et palads, med haver, svømmebasiner og en flot tronestol. På vej op ad klippen, hvor vi gik på trapper, hægtet på ydersiden, havde vi den mest fantastiske udsigt ud over flotte bjergområder. Nedstigningen var timet lige til solnedgangen i det fjerne.
4. dagens program var besøg i Dambulla rock tempel. Dambulla er også et pilgrimsted for budisterne. Det er fem templer bygget i perioden fra år O til det 18. århundrede. Alle templer er med store budda statuer i de forskellige udformninger. Eftermiddagens program var et besøg på et elefant plejehjem. Elefanterne er bragt hertil på rekreation efter hårdt arbejde i bjerne. En af elefanterne Sama, havde fået det ene ben beskadiget af en landmine og en anden havde mistet synet og fik speciel behandling af dyrepasserne. Vi så hvordan de blev gennet ned til flodbredden og fik deres daglige bad.
Sidste nat tilbragte vi på Galle Face Hotel. Et meget gammelt flot renoveret hotel med flot udsigt ud over det Indiske Ocean. Hotellet lå inde i den sikre zone, vi måtte igennem vejspærring og store militærposter for at komme igennem til området. Man glemmer helt, at det faktisk er et land i borgerkrig vi besøger, det har været meget lidt kontrol af turister de steder hvor vi har været.
På besøg i Temple of the Tooth. Et pilgrimsted for budister.
Amaya Hills hotel - modtagelse med blomsterkrans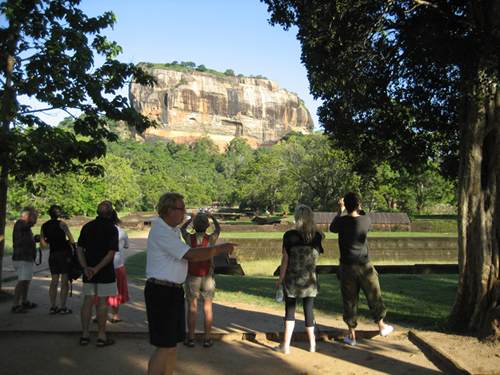 Sigiriya Rock Fortress. En klippe på 200 meter, hvor trinene er placeret udenpå klippen og på toppen har der tidligere været et palads
Dambulla Rock Tempel
Pinnawala Elefant reservat.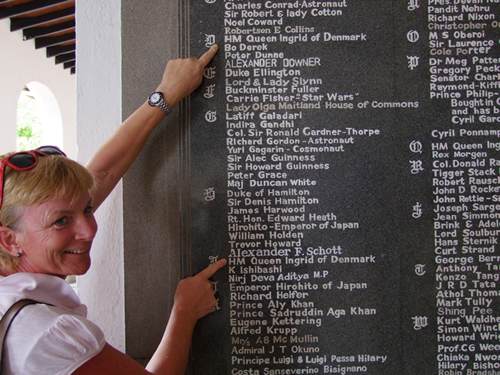 Aftenen før var der 7 brylupper på hotellet. Vejspærringer på vej ind i det sikre område.
Ship Ohøj fra LouSill
---