Fra Porto Pedro, Mallorca

Hvor sejler LOUSILL ?
Anne-Marie og Peter Skov
Fri 13 Jul 2007 21:27
39:21.5645N 003:12.7380E
På kryds til Cala Pi
Hans og Sofie er stået på i El Arenal. De kom om formiddagen og allerede klokken 12 var vi ude af havnehullet. El Arenal er ikke noget at skrive hjem om, det eneste gode ved den by er hvis, at den er tæt på Palma lufthavn. Lidt længere nede af kysten kom vi forbi El Dorado, det vagte søde minder for Sofie in the summer of 69. Det blev genkendt med det samme og hun mendte ikke der var sket den store forrandring siden hun var der i 69.
Vi havde søgt de officielle myndigheder om tilladelse til at ankre og gå i land ved Cabrera. Cabrera er en nationalpark med et helt specielt dyreliv. Bl.a Mallorcas national dyr, et lille firben. Myndighederne er
er meget skrikse med overholdelse af reglerne, så vi valgte ikke at gå derover bare for at kigge. Efter 3 dage i området måtte i opgive at få tilladelsen, der var ellers sendt fax og underskrifter i flere eksemplarer til kontoret. Så vi gik tværs over Palma bugten til Andratx, for at have den by som udgangspunkt til turen over til Ibiza.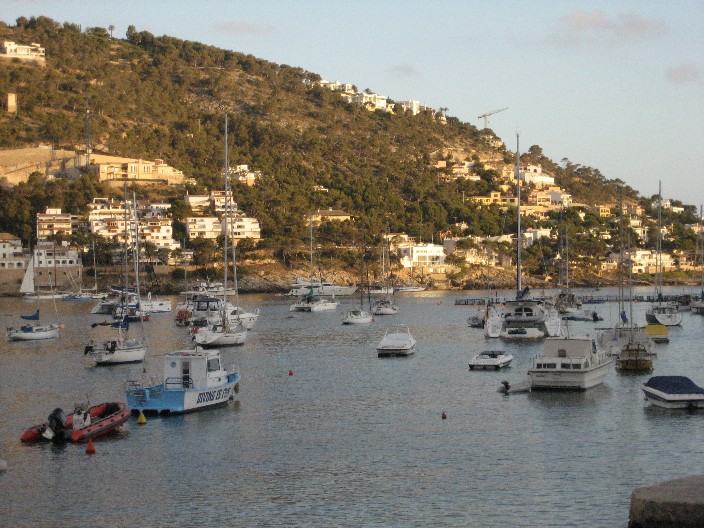 Andratx er nok gået hen og blevet vores favorit by/ankerplads her på Mallorca.Den er meget charmerende og fredelig.
---