Klargøring og socialising

Hvor sejler LOUSILL ?
Anne-Marie og Peter Skov
Thu 18 Oct 2007 11:21
Bådene til Rallyet er, på nær én båd, alle kommet til Gibraltar. Det er spændende at møde alle fra de forskellige både. Der er familier med børn og der er par i alle aldre.
Vi er nok i gennemsnittet. De fleste er englændere, ellers er der folk fra USA, Australien, Frankrig, Holland, Sverige, Italien og ja os fra DK.
Vores engelske bliver bedre og bedre for hver dag.
I mandags startede det officielle program. Vi var til briefings tirsdag og onsdag formiddage om sikkerhed og roll calls. Om eftermiddagene er der besøg fra ledelsen
på alle både til en snak om sikkerhed ombord. Vi bestod "testen", dog var der nogle ting som kom frem ved snakken som kom på listen til ekstra sikkerhed.
Tirsdag aften var vi til middag i Gibraltar Royal Yacht Club, inviteret af BWR, hvor danseskoene blev afprøvet.I aftes var vi inviteret til drink og snack her på havnen
af Ocean Village som ejer havnen og komplekset her omkring. Der var fodbold i TV og stemningen var høj.
Ellers går dagene med proviantering. Vi har været i det lokale supermarked mange gange på cykel. Selvom det er temmelig risikabelt at cykle her i byen.
Der er mange biler, meget byggeri og vejarbejde. Forleden cyklede vi til Spanien i et kæmpe supermarked og var temmelig overlastet på vej hjem til båden.
Alt bliver ført ind i computeren for at holde styr på hvad der købt og hvor det er stuvet hen.
Der er også altid noget der l iiii ge kunne være rart at have nede fra bådudstyrs forretningen. Når man går en tur rundt og ser de andre både og ser hvad de
har på bagsmækken er det svært at begrænse sig og sige stop.
Søndag havde vi besøg Bjarne, Anette og Peter til en hyggelig frokost her på havnen. Desværre var vejret ikke det allerbedste, der regnede, så vi var nødt
til at krybe indenfor.
I dag er der dejligt solskinsvejr, med en østlig brise og klar himmel.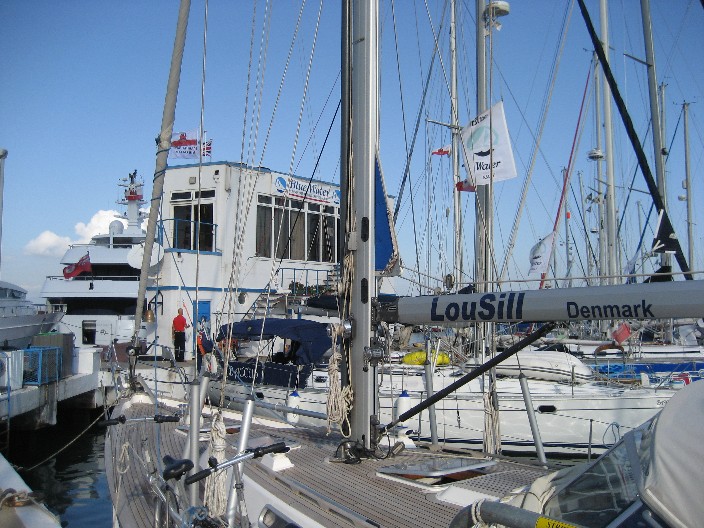 Billede her fra broen i dag. Invitation til reception hos The Governor i Gib.
---