En weekend i Smir, Marokko

Hvor sejler LOUSILL ?
Anne-Marie og Peter Skov
Sun 21 Oct 2007 20:56
35:45.355N 5:20.519W
Tidlig lørdag morgen var der afgang til Smir i Marokko. Næsten alle både var med. Vejret var fint, der havde blæst en del om natten, så der var sendt en fortrop afsted
ud til Europoint for at checke bølgerne. Vi havde vinden foran for tværs og moderate bølger. Det var dejligt at komme ud og mærke vinden efter mange dage i havn. Heldig
for os var der masser af delfiner og flyvefisk, så turen var rigtig god. Klokken 10 var der check af SBB radio, alle blev kaldt op og meldte ind. Bagefter var der mange sjove
bemærkninger og fis på kanal 4 alfa.
Efter 30 sømil var vi i en anden verdens del, ja selv vejret var varmere og vi fik 2 timer oven i hatten, pga. tidsforskel. Der var arrangeret en bustur til Thetuan,
som lå ca. en halv times kørsel fra havnen. Vi var rundt i medinaen, som er den gamle bydel. Vi så på alverdens ting og skrammel til salg.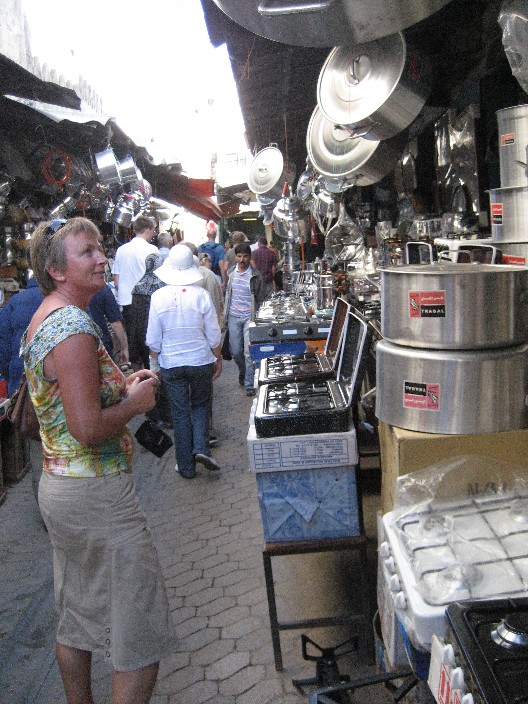 I en af gaderne var der et garveri. Heldigvis er der ikke lugt på nettet, for det var lidt speciel lugt der. Lammeskind i 30 graders varme blandet med
maver og afhuggede hoveder.
Krydderisælger og tæppehandleren fik også besøg.
Efter en meget lang og spændende dag, kom vi tilbage på havnen tidsnok til at englænderne kunne komme op på et hotel for at se verdens-
mesterskab i rugby mellem England og Syd Afrika. Vi så med - en mærkelig sport. England tabte kampen 8 - 18.
The Rock med sin karakteristiske sky på toppen.
Turen tilbage til Marina Bay bød på motor sejlads det første stykke, men endte med en quick kapsejlads mod Brian og Margaret, et par fra Australien,
i en Island Packet, tværs over The Strait i fuld sol og 8 sekm. vind.
---