Moving Again

Karacool
Stephen Bassett
Thu 9 May 2013 08:51
25:48.8S
153:2.4E
Hey – we are on the move again. It has been a long time since the last post to the blog but now we have decided to move on. Our stay in Australia has extended beyond our original plan and now, after 6 months we hear the call of home. Or at least somewhere less expensive. And somewhere that might be more appreciative of our lovely boat Karacool. Although we had her up for sale, she has not sold. If she had I would be writing a different blog entry. We will eventually leave Australia from Darwin – in July! So we are not in a hurry but have enjoyed our first day back with the sails and sheets!!
We left the Marina and headed for the fuel dock at 7.15am and by 8.00 were fuelled and heading out of the Mooloolah river and north toward Fraser Island. The first day we sailed over 60 miles. Not great, I hear in the wind! Yes, that's true but we had a NEW sail and we are a TAD rusty at this sailing lark. Anyway we plan to head up through the Great Sandy Strait tomorrow and then gently wend our way to Mackay.
Thank you to Mike from Shellette who helped us slip our lines this morning – you did not give us your email address, Mike please email us with it!! And Thanks again.
Also thanks to Adrian and Jackie, Oceans Dream who looked after Karacool when we went wandering.
And finally, a big thank you to Stephen's Aunt Ursula who flew from Sydney to Mooloolaba to see us before we left. It was great to see you.
No gongs for this lot.
Mike from Shellette – cleaning.
Stephen and Ursula – in Kenilworth, QLD!!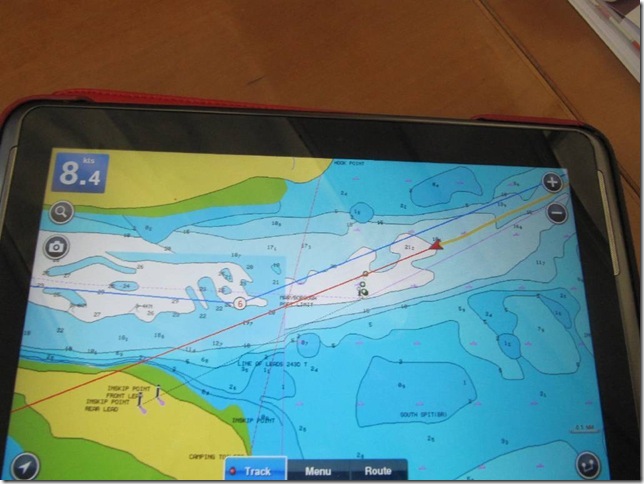 Entrance to the Great Sandy Strait, Fraser Island – it was LUMPY, man?
Tin Can Bay ferry.
---