Antiguan Christmas Eve in Nelson's Dockyard

Karacool
Stephen Bassett
Mon 26 Dec 2011 19:44
17:00.5N
61:45.9W
Merry Christmas to You
We have celebrated Christmas very differently this year. We are located in Nelsons Dockyard, English Harbour, Antigua and the atmostphere has been hot, lively and fun. It has felt very strange to be in a hot climate compared to the UK but fun nonetheless.
Decorations were minimal but every boat did a little dressing. Here is a _hoto of Karacool's decorations...
And on the night before Christmas we all got together - Moin, Marita 3, Oyster Moon, Camelot and Kahia (who had arrived from across the Atlantic only that day) as well as Karacool - for a lovely dinner in the Admiral's Inn located inside the Dockyard. The Dockyard is a living museum with some buildings still in use. It is a busy and lively marina with lots of sightseers as well as yachties!
Here are some images of the dinner.
Baul, Rhu, Stebhen, Catherine, Baul, and Annie. (Sorry to Baul and Baul and Stehen cos the letter after O has ceased working on this silly machine!!)
Gunnar, Vibecke, Helen, Corrina, Mark trying a rum _unch ,,,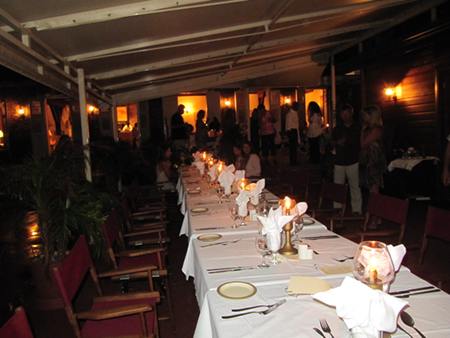 The table was ready for 21 folk.
This man really knows how to make a rum _unch!!!!
---