Shelter Bay Marina

Karacool
Stephen Bassett
Sun 19 Feb 2012 21:34
9:22.00N
79:57.00W
We arrived in Shelter Bay a few days ago. Since then we have been preparing, preparing and waiting. Going through the Panama Canal is a waiting game and all depends upon the Agent you have. We were measured in the afternoon we arrived and were told that we had a date a few days later. Since then there has been a variety of Confusions!!
So, the upshot is that we are not sure when but will have to wait a week. The main problem is that Panama is celebrating the Carnival which means that everything comes to a stop. Not quite but unless you have everything arranged and confirmed ahead of this time, then you have to wait.
On a good note, once we know the date you can watch the transit on the Panam Canal webcam. Find the website for the canal and you will see a selection of locations for webcams. The first is Gatun Locks and that is likely to be between 4 and 6pm on the first day. As we are are 5 hours behind the UK, look at 9pm to 11pm.
The next opportunity is the following day at Miriaflores Locks. I think we will be there mid afternoon. If you miss the live time, I think there is way of back tracking the shots in the webcam history. Have fun any way.
While in Shelter Bay we have seen a Crocodile - have a look at the pics. (It may be an alligator, as some Australian kids informed me that it is too small to be a Croc and the mouth is the wrong shape.)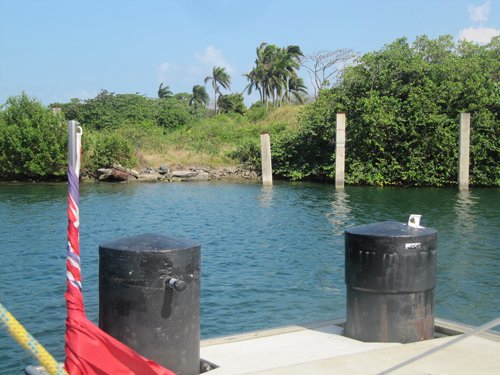 Look at the rock ...
He does not look too hungry!!
---