Leaving the Society Islands

Karacool
Stephen Bassett
Tue 12 Jun 2012 19:22
Today is the Farewell to Bora Bora and the Society Islands. We have sent a week here in several anchorages and have enjoyed the local restaurants, local shops and generally reprovisioning Karacool as well as our bodies and souls.
This is the high point of the island which we did not conquer! But talking to the other boats some very fit people have. Our claim to land exercise has been a cycle ride around the island. paul and Rhu of Oyster Moon and Stephen and Annie (Karacool) took our three bikes ashore and hired an extra one then set off in a clockwise direction to circumnavigate the 32 kilometres. It took us 5 hours on relatively flat roads. Only one hill which us ladies liked. (Not the hill but the lack of hills!)
Here is the team - Rhu, paul and annie posing for the Start!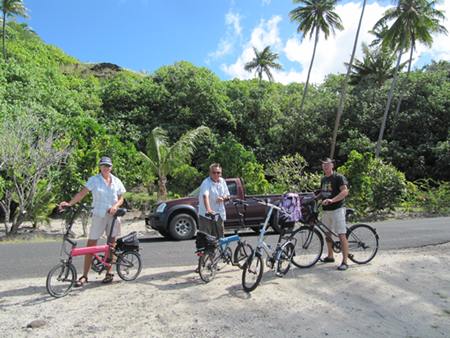 And we have one with Stephen posing as well!!
The next stage of the journey takes us further east and closer to the International date line. Keith (who did not cycle around Bora Bora, claiming he was on anchor watch) is still confused about the days he lost arriving in Tahiti via New Zealand and the International date line, is recovering from injuries sustained trying to bring his body to the right time!!! See below.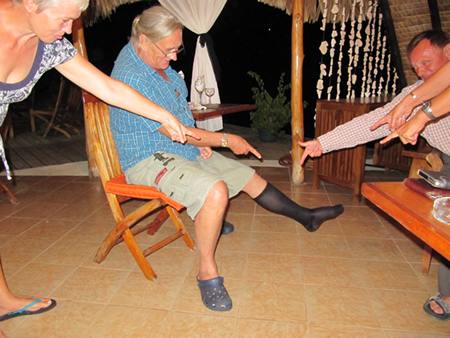 This was taken in the Bora Bora Yacht Club. They have good moorings and are very helpful to yachts. Check them out if you can.
The next post will be on passage so best wishes and keep smiling.
---