Society Islands

Karacool
Stephen Bassett
Tue 5 Jun 2012 03:21
16:36.4S
151:33.5W
pp
Hallo, Hallo, Hallo - greetings from the Society Islands which are Tahiti, Moorea, Huahine, Raiatea, and Tahaa (to mention the ones we have visited), where we are now. Bora Bora tomorrrow, leaving here early in the morning.
Raietea is not a place we want to return to as we had our pc stolen whlst we were off the boat for dinner one evening. So feeling a bit jaded and untrusting of the town and the island. But we are carrying on with little harm done except losing some of the photos of the our journey.
Having a great time snorkelling and visiting the islands. Yesterday at a Vanilla farm on Tahaa we saw how vanilla, as we know it, is made. The Vanilla farmer came and collected us, gave us the tour and then gave us a dazzling array of vanilla products to send our money on. Did you know that vanilla is an orchid!!
Here are a few fotos to look at:
Stephen making dessicated coconut in Meri's house on Huahine.
Annie in her new pareu - I will never remember how to tie it like this even although Meri showed me!
Moorea - the reef view, where the waves are breaking.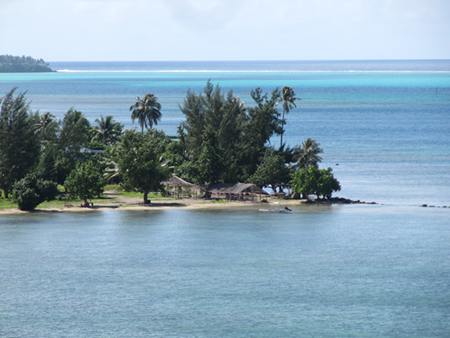 ---