Sigatoka

Karacool
Stephen Bassett
Mon 6 Aug 2012 09:00
Went exploring today, and met up with Rhu and Paul (OysterMoon) in Sigatoka, Fiji. After a wander around the town we went to visit the Hill Fort at Tavuni Hill. It is in a fantastic location and the guide showed us around. He was called Joe(!) and let slip that he was the chief's son and also that he was Tongan. Hang on a minute – this is Fiji. So let me explain.
The fort was built in the 18th century by the Tongan chief 'Maile Latemai. It demonstrates the strong links between Tonga and Fiji at the time. The fort is built on a limestone ridge, about 90 m high at the edge of a bend on the Sigatoka river. It was a strategic location with great views up and down river as well as across the plains and foothills. No other clan/tribe managed to defeat the fort, at least not until the europeans came with rifles and that was the downfall of the clan. All this occurred when Fiji decided to become part of the British empire but this clan did not want to join in. Sadly for them that was not the right answer.
It was quite a substantial settlement and includes several chiefs graves, foundations for about 30 houses, a ceremonial meeting area with sacrificial stone for head-chopping!!
We had to sit down after seeing the head chopping stone! Check the view behind us.
Looking downriver at the track to Sigatoka.
Circles of stones are all that remains of the houses in the fort.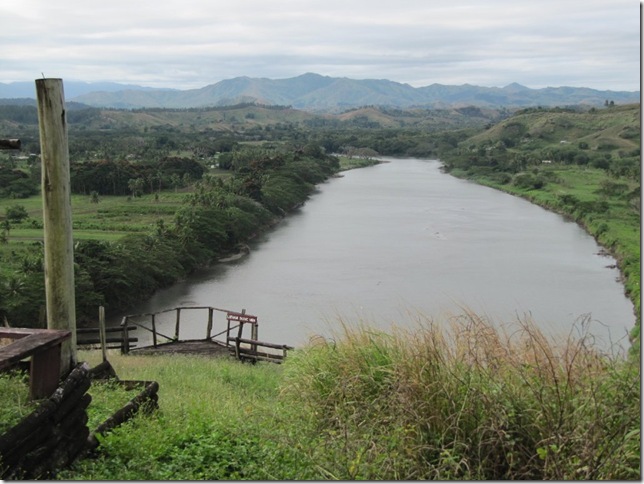 And the view upriver.
---