Bora Bora, Society Islands

Karacool
Stephen Bassett
Sat 9 Jun 2012 19:30
16:30S
151:46W
Bora Bora is an island of contrasts, with old stalwarts like the Bora Bora Hotel where Stephen anchored before (2006), being closed since 2008! There are many signs of recession here as there have been throughout the trip and yet it is the most expensive island so far. We arrived three days ago and first anchored in the bay by the old Bora Bora Hotel which should have celebrated its 50th year of operation this year. But it closed in 2008 for a refit but sadly never reopened. There are several other big hotels as well as other businesses which have ceased trading.
Getting into the anchorage through the reefs was hugely daunting but once you are there you wonder what all the fuss was about. Here is Oyster Moon following us through the coral heads by the old Bora Bora hotel. You cannot see what we can see, standing on the bow and looking forward!
We stayed in the bay for one night but decided to move as the wind was making things uncomfortable. So, back through the coral heads to Vaitape (the main town). We anchored off the Top Dive centre on a mooring, and Oyster Moon went to the Bora Bora Yacht Club just around the point. We moved round to here yesterday as we kept getting wet when getting in and out of the dinghy.
But we (Stehen, Annie & Keith) had a super meal in MaiKai restaurant - good food and lovely welcome.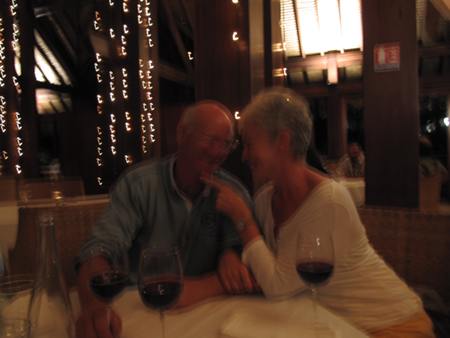 Sorry image is a bit fuzzy but is was so relaxed!
TTFN from Karacool.
---