Sunshine again

Karacool
Stephen Bassett
Fri 9 Dec 2011 15:43
17:20.1N
57:02.2W
There are 275 miles to go! We have been motor-sailing for 2 days and wish we could cut the engines as the background noise is buzzing in our heads. All this in spite of playing Runrig at full tilt this morning,. Stephen checked the oil on both engines and there was peace in a calm sea for half an hour.
The many weather systems around us have created an area of NO wind exactly where we are so until that changes the engines are on. There is plenty sunbathing going on.
The other yachts are reaching the same weather situation as we have been in and will have to decde to sail very gently or motor as well. None of us want to use up our fuel reserves but on the other hand we all want to complete the journey quickly now.
There is not even enough wind to lift the spinnaker. The photo was taken a few days ago but we were not impressed with its performance and now are back to the ususl duo of Jib and Main sails, going flap, flap!
It is strange that the weather you really want has just been or still to arrive!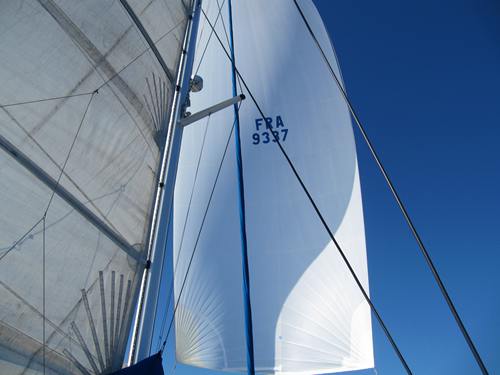 Spinnaker up for the first time.
---