Musket Cove - Some Hellos and Goodbyes - Photos

Eowyn
Fri 2 Jul 2010 06:41
Éowyn is presently in Musket Cove resort and marina, Fiji, in position 17:46.307S 177:11.586E
After leaving Nananu, we received an email message from rally control that we could do our inward internal clearance at Musket Cove rather than Lautoka. With that information we together with Thor VI and Noeluna changed our plans and headed for Vuda Point Marina, further South.
This turned out to be an excellent choice with a first rate chandlery, convenient fuel dock and a modestly priced launderette.
We spent 2 nights here and one day went by taxi to Lautoka where we found the best vegetable and fruit market since we left St Lucia. The taxi driver also gave us a mini tour of the town.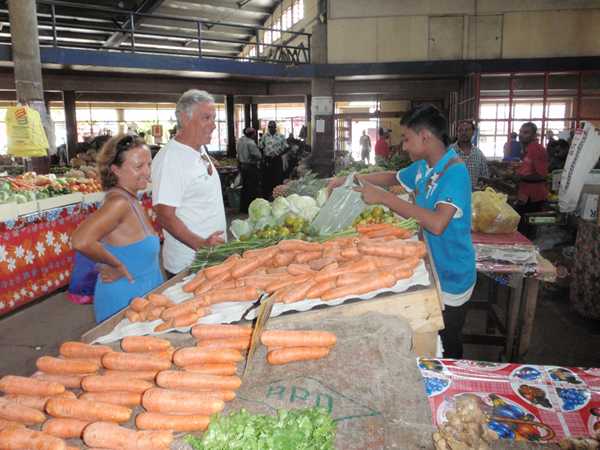 Rui & Anna at Lautoka Market
I took the opportunity to change the engine oil in such a convenient location. The only disappointment here were the 2 restaurants where the grub was mediocre at best.
Next stop was Musket Cove where for the first time we were in a marina with full resort facilities. Being able to charge everything to the yacht may prove to be a blessing in disguise when we check out tomorrow!!
World Cruising arranged 2 functions, a barbeque and then a Fijian Feast (much like a Tongan Feast!)
Chessie has rejoined the group having had extensive repairs in Tahiti. we learned that several (9 in total) yachts have grounded in these badly charted waters including J'Sea which was on its side and put out a Mayday call!
The Fleet at Musket Cove
We knew we were to say goodbye to Noeluna here but sadly Dreamcatcher and Ronja have decided to leave the rally. Dreamcatcher has several weeks of repair needed after the Tsunami damage in Galapagos and they will now cruise this area for 2 years and pick up the next World ARC. Ronja have decided that a half circumnavigation is enough of an adventure and will send Ronja back to Europe by ship. Sadly that means we say goodbye to all of our junior sailors photo'd below. However, the Ronjan's plan to drive from Mackay to Darwin in an RV so it is not quite goodbye yet.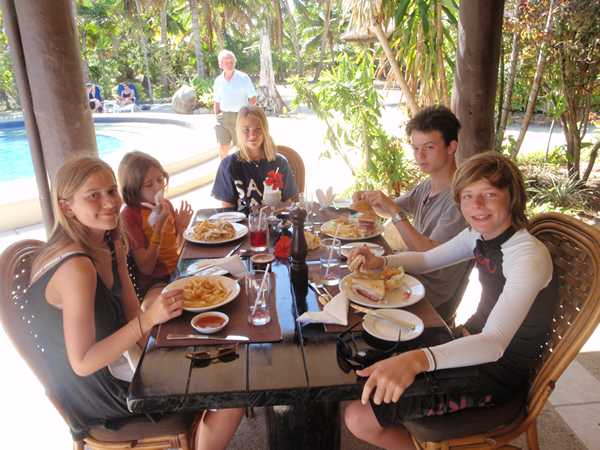 Mike with Ronja's Vilde and the Young Ones from Noeluna and Ronja
Today, the 2nd July, Maggie & Bob from Ocean Jasper, Stephen from A Lady and Lars from ronja made a 14,000 feet tandem parachute jump here at Musket Cove. They all loved it - not for me thank you very much!!!
Tomorrow we set sail for Vanuatu where we plan to haul out for a couple of days scheduled maintenance. Hopefully the Customs paperwork there will fall short of the 58 pages we completed in Fiji!!!
---