Tuomotos, Diving, Volcano, Crew update - photos

Eowyn
Thu 22 Apr 2010 01:03
Éowyn is now in Rangiroa, Tuomotos in position 14:58.126S 147:38.229W
We eventually arrived at our first Tuomoto atoll in the early hours of the 15th April. I was anxious to arrive after first light as the various pilot books gave tales of doom and gloom about chart errors up to 4 miles. In the event, the radar confirmed our C-map charts to be very accurate. We had received pilotage note from "A Lady" and as we stemmed the 4 knot current, we headed West and had an easy passage. We anchored near "Ciao" the Slovenian yacht and later that day, explored the lagoon by dinghy.
Pearl Farm Manihi
This Island is full of small pearl farms which are running at 25% capacity because of the global recession. The atoll is very much a paradise island but we had found the rugged beauty of the Marquesas much more attractive.
On returning to Eowyn we found emails informing us of the Iceland volcano gridlocking European airspace. It would be unlikely that Chris, Val and Carole could join us as planned. The next morning we travelled some miles in the lagoon to where we had been told we could find a wifi connection. We were then able to get full details of the problem. Because of it, we decided to change our plans and head direct to Rangitoa where we knew internet was again available.
There we found several WARC yachts. We were kindly invited to dinner on the Norwegian yacht "Ronja". Jan Morten had found an enormous piece of steak which produced a fantastic meal for 9 of us. I must admit there was also a beer, whisky and aquavit tasting!
John, Mike and myself signed up for some Scuba diving and were treated to gin clear water and excellent life including sharks, rays, turtles and even dolphins.
Yesterday we visited the Gauguin pearl farm for a fascinating insight into the production of the famous Tahitian black pearls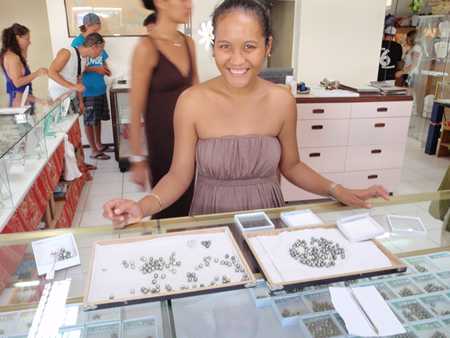 Last night we invited Rui & Ulli from "Thor 6" to supper and made them a chicken korma. They are now underway to Papeete.
In the meantime, back home the travel plans were on/off/on and it was only confirmed today that Chris, Val & Carole should fly out on the 25th. We will now head straight to Papeete to arrange hotels, hire car etc.
I am delighted to report that Andrei Buttu has accepted my invitation to join us from Australia to South Africa. Andrei who is Swiss, also sails a Hallberg Rassy 40, "Encore" and plans to join the World ARC himself in 2010. He will join us in Darwin at the beginning of September. He will then be replaced by Bob Glassman from the US who will sail from South Africa via Brazil to the Caribbean. We are really pleased that these two experienced sailors can join us.
---