08:45.63S 115:09.48E Jimbaran Bay, Bali

Lisanne
Eric Alfredson
Tue 25 Sep 2018 05:07
Tuesday September 25, 2018
Hello Lisanne friends !
As we had a couple of weeks to hang around Lombok/Bali to wait for crew changes etc. we decided to do a land tour to see a bit more of this beautiful country. It was myself and Charles and Nicky from Calliope. First we flew over to Makassar on South Sulawesi. There we went by car up to the Toraja highlands. This is a very different place from the coastal villages. Green and lush and a bit cool in the night. People seem to live a very good life here. There are traditional houses, Tongkonans,  everywhere and they are always paired with Alangs, for storage of rice.
We were invited to a traditional funeral which we attended with very mixed feelings.  They sacrificed animals and as the deceased was a wealthy person they killed 24 water buffaloes and 48 pigs and all the funeral guests watched this. We didn't appreciate it and left real soon. But the rest of the funeral was really nice and we saw when they carried the coffin to the grave chamber and shared their lunch afterwards.
We also visited a cattle market and local school and did a couple of hikes in the beautiful surroundings before we left Toraja.
Next destination was Raja Ampat in the North East of Indonesia. This is one of the world´s best dive areas. We stayed three days in Waiwo dive resort and did some really great dives. Max, our dive leader and his team did everything they could to show us the best dive sites in raja Ampat and we really appreciated it. Chrystal clear water and an abundance of fish and nice coral.
After we  returned to Lisanne we have mainly been sailing around Bali. We stopped a couple of days at Gili Trawangan which is a meeting place for young people who like to party as well as dive and snorkel. It was badly destroyed by the recent earthquake. But people have returned already and it was business as usual although with less people than in the past. Lembongan Island just nearby was also a great place. The water there was extremely clear due to the south setting cold current.
We are now anchored at Jimbaran Bay in Denpasar, Bali. It´s a great anchorage  and we´ll stay here a couple of days to provision and prepare the boat for the sailing north towards Borneo.
      Tongkonans, traditional houses  in Toraja                                     Daughter and sister of the deceased
      Sacrifice of water buffaloes                                                             Carrying the coffin
      Alangs for rice storage.                                                                    Water buffaloes,  about 3000 $ each.
      Or maybe a pig ?                                                                                Nicky our schoolteacher
      Let´s go diving                                                                                     Max our divemaster
      So many schools of fish                                                                       Chrystal clear water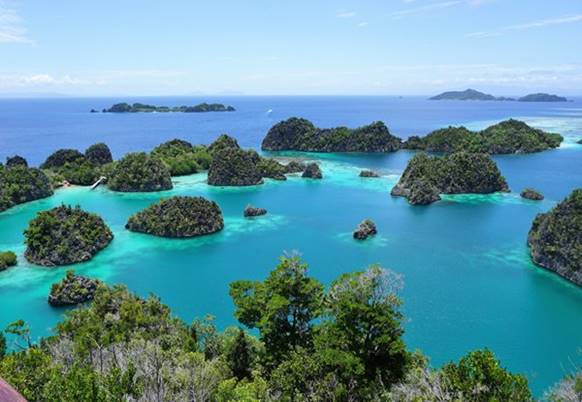 Nice lunch break                                                                                   Piaynemo islands Raja Ampat
      Quite a view                                                                                           Bintang ( star) bay
      Lisanne at Gili Trawangan                                                                    Rubble from the earthquake, sad !
      Silence of the Oceans ceremony                                                          Fishermen racing home
---