36:35.68N 04:30.78W Benalmádena

Lisanne
Eric Alfredson
Mon 15 Jun 2015 11:52
Monday June 15th. Benalmádena.
Our short stop in Gibraltar was great. Some of the crew, Carl, Jonas, Per-Erik and Dan had not been there before and took the mandatory tour to see the monkeys and caves. In spite of being told not to bring any food or sweets Carl had an ice-cream when he left the van and was immediately attacked by a monkey who took it from him an gave him a scratch.
In the evening we had a nice steak dinner and then tried our samba moves in the Cuban Bar after having "some" Caipirinhas to boost our confidence.
We left Gibraltar with the intention to sail to Estepona where the "girls", Ann and Lena, were expecting to meet us. But we had a nice SW breeze and wanted to take advantage of it and changed our minds and wend a bit further, to Benalmádena instead. The girls had to spend the night on their own while we watched the Euro qualifier game in Benalmádena. Sweden 3 Montenegro 1 !!
At 5  on Monday  morning the guys, Carl, Jonas, Per-Erik and Dan, took a taxi to Malaga Airport to catch Ryanairs flight home. A fantastic crew who worked hard during the rough conditions in the English Channel and over Biscay without a complaint.  Many great laughs too. Thanks guys !!
Good Night Carl                                                                                Biscay pigeon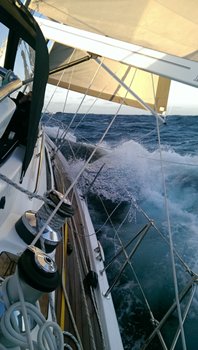 Nice breeze                                             First sun
Nightcap                                                                                             The Rock
Carls icecream                                                                                  Marina Village
---