52:02.06N 01:09.00E Fox´s Marina Ipswich

Lisanne
Eric Alfredson
Sat 30 May 2015 18:40
FOX`S MARINA Ipswich May 30th 2015.
After a hectic handover week Lisanne is now ready for the first leg down to the Med. We have been crawling under the floorboards to look at all installations, we have been out testing all the sails and we have been brainwashed with all information about the boats navigation, communication and entertainment systems. We had the namegiving ceremony on Friday afternoon with Oyster friends as well as many of our other friends. Ann as the Godmother crushed the Champagne bottle on the bow.
The crew. Karl, Jonas, Per-Erik and Dan are installed and food and provisions is securely stowed.
Tomorrow we set sails and sail down the English Channel. We´ll see how far we get as there is a gale on it´s way so we will most likely stop somewhere to wait it out.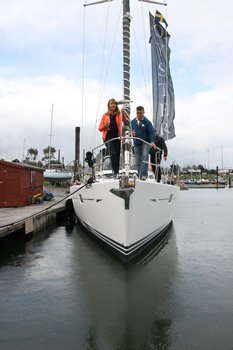 ---