17:46.38S 177:11.12E Musket Cove, Fiji

Lisanne
Eric Alfredson
Fri 6 Oct 2017 02:59
Bula, all Lisanne friends !
The blogging has unfortunately been a bit neglected during the last month. This month has been spent in the wonderful Fiji islands. An absolute paradise !
we arrived from onga after three days sailing. The first island we met was Vanua Balavu in the northern Lau group. A poor island which was badly hit by the 2016 cyclone with great devastation as a result.
All the 26 Oysters in the fleet gathered here for clearing in and a welcome party was organized by the people of the island. I think we all fell in love with Fiji and the warm and friendly Fiji people that evening. The whole village was there to welcome us. They were singing and dancing for us and treated us with a nice Fiji barbecue. But first we had to do the Sevusevu ceremony where you give kava roots to the village chief and then drink kava with him.
Before e left Vanua Balavu we went to the Bay of Islands. A stunning anchorage where we went on a dinghy safari. We snorkeled into caves with the entrance under water. Ann thought it was a bit scary but she did it !
On the way back to the village we had a kite (spinnaker) run with Calliope, our sister boat, which was filmed by a professional photographer with a drone. I hope to be able to show the film one day.
Unfortunately our electronic engine control did not function so we could not use the engine any more. Therefore we sailed straight to Port Denarau on the mail island Viti Levu.We stayed there for a week to wait for Lisa, our daughter, who should arrive from Sweden with a new engine control from Volvo Penta.
Ann had to fly home again so we rented a car and drove to Suva, the Fiji capital. There we stayed in the luxurious Grand Pacific Hotel, an old colonial hotel built in 1914 ad totally renovated to its full glory in 2014.
Ann flew home from Suva. Mike left the boat and a new crew member arrived, Anja from Poland. She is now called "the Tornado". She has turned the boat completely upside down, reorganized the kitchen, cleaned everything, washed every bit of textile on board, polished stainless and GRP etc. Lisanne is now all fresh and shining again.
Lisa arrived with boyfriend Pontus a few days later. The engine control unit was soon fitted and we could get going again. First we went north to a small island where we visited the village and did a Sevusevu ceremony with the village chief. We then continued round the whole island of Viti Levu. We stopped at Volivoli for a very nice soft coral dive. At Suva Lisa and Pontus spent a whole day visiting volunteer projects for Lisas volunteer organization Amzungo.
We stopped at Beqa island where we went on a spectacular shark dive. We swam close to the huge Tiger and Bull sharks. A bit scary but really exciting.
Two weeks went fast and Lisa and Pontus had to fly back home again. Two polish friends of Anja, Peter and Marta, joined the boat and we sailed to Mana Island where we went diving. We met the lovely couple Mike and Annette from Auckland who invited us to their nice beach villa and kindly lent us their boat and boat captain who took us to a good dive site called "the Supermarket" where we saw grey reef sharks and black and white tip sharks. In the evening we had drinks in board Lisanne and a lot of fun together.
We are now at Musket Cove. Our ffth crew member Arthur arrived. He is also from Poland. So now we have renamed the boat to Lisanski and polish is the main language on board.
Today we will sail back to Port Denarau to clear out from Fiji and tomorrow we will sail towards New Zeeland. We have 1000 NM to Opuain the north where we plan to clear in. The weather forecast looks decent so hopefully we will have a good crossing.
Best regards from Lisanne in Fiji.
Traces of the cyclone Ann at the baker
Sevusevu with village eldest. Two old guys chatting.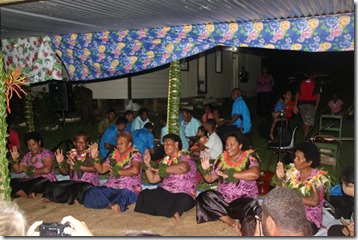 Great band. Lovely ladies peforming
Cute kids The Oyster boys are enjoying themselves
And the girls too.
Bay of islands
Our new friend Another sevusevu
Morning exersice At the top !
Sugar cane production Lisa changing light bulb 25 m up.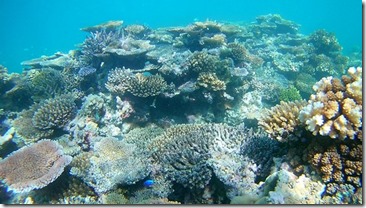 ---