12:04.18N 68:51.10W Curacao

Lisanne
Eric Alfredson
Thu 16 Feb 2017 23:21
Curacao, February 16th,2017
Our time in beautiful Bonaire went really fast. The days were filled with activities,  especially with Lisa and Jenny on board. Snorkling, diving of course in this diver´s paradise. One day we rented scooters and took a tour round the southern part of the island. We went to the windsurfer´s paradise and the girls wanted to try but unfortunately there was not enough time. On Friday evening we celebrated Hugh´s ( Meteorite) birthday with a fantastic evening at one of the best restaurants in Bonaire. Just as we sat down the skies opened and we had to flee into the bar. Not all bad though.
We had morning exercise led by Debbie of Meteorite some mornings. Exhausting ! But the coffee afterwards was rewarding.
On Sunday the 12th we left Bonaire and set sail for Curacao, just a short trip across. We arrived Barbara Beach marina in the afternoon, part of a big  resort complex, and were met by Robert who was very helpful.
Curacao is very different from Bonaire with quite a large population of 100 000. Kralendijk is a very beautiful town on the World Heritage list.
We could enjoy all the facilities of the resort and had a great time. We rented a car and went into Kralendijk, great place ! Lots of cruise ships though. We had dinner at Ginger, excellent restaurant  which we sincerely recommend. On Tuesday ( Valentine´s Day) Lisa made home-baked SEMLOR, a Swedish specialty to be enjoyed this time of the year.
On Wednesday the girl´s holiday was already over and we drove them to the Airport. A sad moment, when will we see them next ? But we understand they got home all right full of lovely memories.
We are just now preparing to cross over to Aruba overnight. It is about 80 NM across and we want to arrive  before dark as the clear-in procedure is very complex as far as we understand. We´ll see.
Fruit shop                                                                                           Celebrating Hugh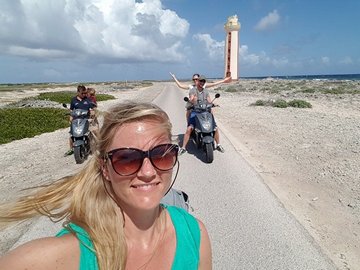 Scooter trip                                                                                        Slave huts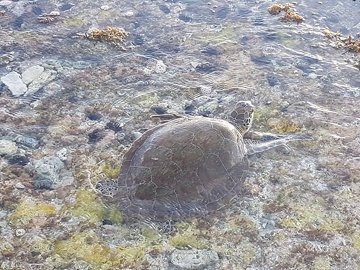 Nice turtle                                                                                          Do we like Goodive ?
Hugh´s Birthday Party                                                                      Drummer girls
Kralendijk                                                                                           Floating bridge.
Morning run                                                                                       Hangover ?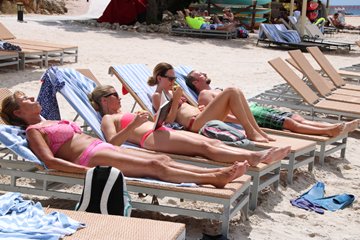 Lazy days in the sun                                                                         Our friend Sam
Lisas Semlor.  Yummy !
---