12:52.50N 61:12.00W Mustique

Lisanne
Eric Alfredson
Fri 14 Mar 2014 15:49
Torsdag 13 April
Efter Petit St Vincent gick vi tillbaks till Hillsborough på Carriacou. Trevlig liten stad. Sandy från Kanada tog flyget, en liten 6-sitsig maskin, till Grenada f.v.b. hem till Vancouver och George, då hennes vecka var slut. Vi övriga klarerade ut från Grenada och kastade loss och gick för motor över till Union Island för att klarera in till St Vincent & The Grenadines och fylla på förråden. Därefter gick vi ut till Tobago Cays. Lika vackert som alltid. Många båtar och mycket folk. Efter härliga bad och en "sundowner" i sittbrunnen tog vi dingen över till en av öarna där vi avnjöt en delikat middag på stranden. Grillad hummer med vitlökspotatis och goda tillbehör, mums. Underhållningen bestod av en ensam steelpan. Magisk kväll !
Vi vaknade till en strålande dag med sol och vind runt 7-8 m/sek. Tog dingen ut till Horseshoe Reef där vi snorklade i det 29-gradiga vattnet och såg skölpaddor och många vackra fiskar. På eftermiddan satte vi segel och styrde ut i atlantvågorna med kurs mot Mustique en bit norröver. Vi fick göra ett slag österut och fick sen en brant bog norrut men lyckades hålla upp mot ön som ligger lite mot NO. Vi ligger nu i Britannia Bay, 200 m från den berömda Basils Bar där vi tänker äta middag ikväll. Kommer någon av öns celebriteter tro ?
Hälsningar från Eric, Urban och Marie.
Urban the "anchor man" Cool !
Carriacou New Lisanne ?
Time for a sundowner. The bar on Union Island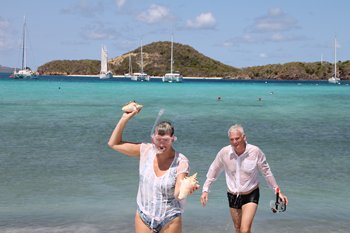 Tobago Cays The little Mermaid ?
---