36:46.54N 14:32.48 E Marina di Ragusa, Sicily

Lisanne
Eric Alfredson
Wed 8 Jul 2015 16:48
When the family was complete we left Cagliari for an anchorage in the SE part of Sardinia where we celebrated Anns birthday with a nice meal ashore. We had a good time with excellent seafood. The next day we crossed over to Sicily. A night sailing which went quite smooth, mostly motoring. We stopped at Isola Favignana in the morning, a very nice island just W of Sicily where we could swim and snorkel most of the day. From there we went over to Sicily and anchored just outside a town called Mazara del Vallo. Maybe not Sicilys prettiest town with a large fishing harbour.
As Lisa was going to leave the ship we had to organize transportation to Palermo Airport from where she was flying out in the morning. With some help we found a taxi driver who seemed to be reliable enough to drive her the 2 hours to the airport in the morning.
The rest of the family sailed further down the Sicilian coast to Marina di Ragusa a very large, but very empty marina.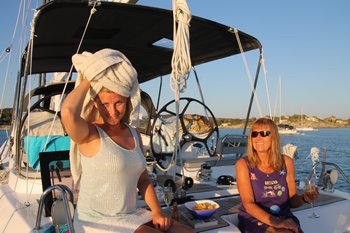 ---