10:24.96 N 75:32.69 W Cartagena

Lisanne
Eric Alfredson
Tue 28 Feb 2017 13:27
Cartagena Tuesday February 28th
We left Aruba and sailed towards Colombia. We had been warned for the strong winds along the Colombian coast but were extremely lucky and had a nice 15-knot reach most of the time. During the night hours we even had to start the engine for a while as the wind died. It was spectacular to cross the outflow of the Magdalena River where the sediment made the water yellow. It took us 2 ½ days to reach Cartagena. We arrived in the early morning hours and saw the sun rise just as we arrived. The morning light shone on the Cartagena skyline, quite a sight !
We were well received at the Club de Pesca thanks to our agent William who also swiftly cleared us in with the authorities. Then we were ready to explore Cartagena. What a beautiful city ! Old colonial buildings mixed with modern skyscrapers. The historical center is just like an old Spanish town but with a definite Colombian touch. Lots of nice restaurants with excellent food and plenty of bars where the salsa music could be heard all over town.
On Friday morning our third crew member Sandy arrived from Canada. She looked a bit pale but that won´t last long. She had friends in Barranquilla who had arranged tickets to the Carnival so we went to Barranquilla which is about 1 ½ hours north of Cartagena. We visited the Alvis family, Oscar, Ana, José, Victor and Alberto with his American girlfriend Sadie and went with them to the Carnival. What a fantastic show !
There were the Carnival Queens on their spectacular flutes, salsa bands, dancers from all districts of Colombia expressing historical events in their dances, Devils, men on stilts and a lot more. Colombia has a rich history which was so interesting to learn about and the Alvis´s were great guides. Thank you !
Today, Tuesday we will sail towards the San Blas Islands. It will take 20-24  hours so we will be there tomorrow morning. The winds will be around 20 knots so we expect quite a fast reach down there. We have heard so much about these spectacular Islands and look forward to getting there.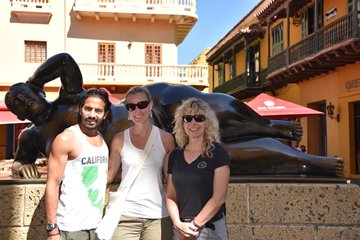 ---