21:08.21S 175:12.6W Nuku'Alufa Kingdom of Tonga

Lisanne
Eric Alfredson
Tue 8 Aug 2017 00:26
Tuesday August 8th, 2017
Hello Lisanne friends,
We sailed 850 Nm from Rarotonga, the capital of Cooks Islands to Nuku'Alofa which is the Capital of the Kingdom of Tonga, situated on the Tongatapu Island. On the way over we had very mixed weather with everything from no wind until 25 knots. The wind shifted around the clock from SW over to N,W and S back to SW again. It is now a bit colder than further north. Day temperatures are around 25C and we need some warm clothes on the night watches. We had good fishing luck and caught two nice mahi-Mahis simultaneously one day and a 15 kg Tuna the next day so now our freezer is full of fresh fish again.
We arrived Tonga at nighttime and anchored outside town and slept until morning when we entered Nulu'Alofa Harbour and moored in the shipyard there. Everyone was very friendly and helpful here. The customs officer came to the boat and cleared us in and then he drove us to the ATM and phone shop to get internet cards. Another guy from the yard drove us around town to fill gas bottles leave laundry bags etc.
This is a nice little town with every service you can wish. Tonga is a little Kingdom in the middle of the Pacific Ocean and they are very proud of their King and Queen and their history.
We will now stay here a few days for crew changes and provisioning. Ann will arrive tomorrow from Sweden and Samantha who have been on board a month will leave us to fly to NZ. We will then sail northwards throughthe Tonga Islands. We plan to swim with the Humpback Whales one day on a small island called Nomuka. On August 18th we will meet the other Oysters again for a Beach Barbecue in the island Vavau, the northernmost of the Tonga Islands.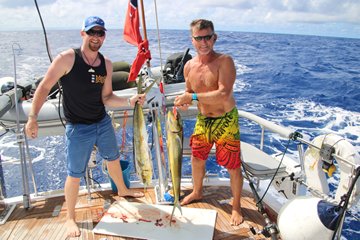 Two Mahi-Mahi at the same time Biggest flying fish ever
Court skipper of Dalliance and Sam Big tuna
Lisanne 4 ? We don´t want to end up here
End of Swedish dream ?
---