13:00.50N 61:14.30 Bequia

Lisanne
Eric Alfredson
Mon 23 Jan 2017 19:14
Sunday January 22nd, 2017
We´re on our way ! We have now been sailing one week since the start on Antigua. The start was spectacular with all 31 Oysters together just outside English Harbour in quite a breeze. A helicopter was hovering above us filming the start. You can see the footage on : www.oysterworldrally.com . On the website there is also a tracker so you can see where we are all the time.
We have taken it slow and easy the first week cruising south through the Windward Islands. Lars and Gunilla Torstenson are our guests during the first two weeks. We have stopped on Guadeloupe, Isles de Saintes, Dominica, Martinique, St Lucia and have now reached Bequia one of our favourite islands. We plan to spend next week in the beautiful Grenadines.
Our new paintings. Thanks Gun Eld Sandström A farewell "tot" at Nelsons Dockyard
1st prize for fastest Oyster across the Atlantic
The start at English Harbour Lisanne from above.
At the top ! Sunset cruise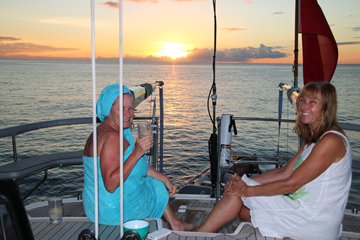 The Pitons, St Lucia. Time for a sundowner
---