18:27.69N 64:31.68W Virgin Islands

Lisanne
Eric Alfredson
Sun 27 Apr 2014 00:00
Great Camanoe Island lördag den 26 april 2014.
På onsdagen åt vi middag med Esmeralda-gänget och fick oss sen en nattfösare ombord hos våra vänner på Oyster 625an Red Cat. Nästa morgon stack vi iväg från Saint Martin eller Sint Maarten som holländarna kallar sin halva av ön. Den är väldigt kommersialiserad och man blir inte särskilt trevligt bemött så det var inte med nån saknad vi kastade loss och gick ut ur lagunen vid broöppningen klockan 10.30. Vinden hade nu avtagit ganska mycket efter den senaste veckans blåsande. Vi seglade över till Anguilla som bara ligger 1 1/2 timme norr om St Martin. Vi la oss i en fin vik och brydde oss inte om inklarering mm då vi bestämt att sticka iväg tidigt nästa morgon till B.V.I (British Virgin Islands). Vi hade EC-dollars kvar som inte går att växla in så vi tog en tur in till land för att göra av med dom. Dom räckte precis till en hatt till Ann och 4 (!)  Rhum Punsch på Frangipani Hotel. Lätt intoxikerade tog vi oss ombord i mörkret, lagade middag och la oss tidigt.
Klockan 04.00 på torsdag vaknade skepparen, tog upp ankaret och satte kurs mot B.V.I  c:a 80 sjömil bort. Vinden var till en början nästan obefintlig men ökade frampå morgonen till 6-8 m/sek så vi kunde sätta segel och plattlänsa med spirad genua mot nordväst. Lisanne lufsade på i 6 knop och vid 5-tiden kunde vi gå in till Virgin Gorda och droppa ankaret i en underbar sandvik kallad "The Baths". Kvällsdopp, sundowner och middag ombord.
B.V.I visade sig vara ett fantastiskt fint seglingsområde. Vackra öar med skyddad kust, ingen havsdyning och trevliga tilläggsplatser med bojar utlagda för att spara på naturen. Men väldigt mycket charterbåtar överallt, mest katamaraner.
På fredag klarerade vi in i Spanish Town och gick sen upp till  North Sound på Virgin Gorda. Vi fick en härlig eftermiddag på vår vackra ankringsplats följd av en god middag på den lilla ö-restaurangen Saba Rock. Där simmade jättestora fiskar i ljuset från restaurangen så Ann var tveksam till om hon skulle bada nåt mer.
Idag lördag har vi seglat vidare till ett nytt paradis kallat Great Camanoe Island. Där ligger vi vid en boj och badar (även Ann)  och snorklar på revet intill. Ikväll blir det middag i land på den fina restaurangen på ön.
I morgon går vi in till Road Harbour på Tortola, huvudön. Ann lämnar då skutan och Atlantbesättningen väntas in.
Anguilla anchorage                                                                          Sundowner on Frangipanis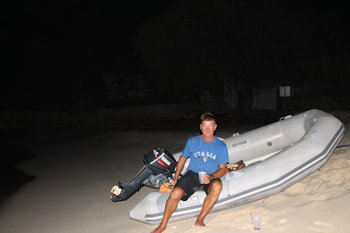 Anns new hat.                                                        Time to get onboard.
Spanish Town                                                                                       The Baths at  Virgin Gorda
North Sound anchorage                                                                  Saba Rock restaurant
Tonights restaurant. Marina Cay.
---