38:54.66N 01:26.96E Ibiza

Lisanne
Eric Alfredson
Wed 24 Jun 2015 07:25
Ibiza Town Wednesday June 24.
We sailed the short way from Torrevieja to Alicante on Midsummer day. About half way there are some islands, Tabarca with a nice anchorage where we stopped for a swim and a nice Mediterranean lunch. In the evening we entered Alicante Marina and then the crew Ann, Lena and Tomas had to pack their bags for next morning's flight back to Sweden.
In the morning Ann, Tomas and Lena left and later in the day some the new crew Erik, Rickard and Charlotte arrived. After introduction to the boat they went to the Supermarket to get a few days supplies. Alicante was bustling as the San Juan Fiesta had just started. It is their Midsummer celebrations with big parades, woodcarving statues and bonfires. After cooling off with a swim at Alicante Playa we went out to mingle and have some beer and Tapas.
At 4,30 in the morning Lisa and Jenny arrived by bus from Marbella where they had spent Midsummer. As soon as they got on board we started the engine and left the Marina with course on the Island Formentera next to Ibiza. We saw the sun coming up and got a nice landbreeze so we could sail for a while but then the wind died so we had to motor for a while until a nice southerly wind filled in and we could sail all the way to Formentera where we arrived at 8 in the evening. We anchored in the paradise bay at Isla Espalmador. A swim and a nice meal in the cockpit followed.
On Tuesday morning we woke up to a beautiful day. 26 degrees C in the nice turquoise water. We spent the day swimming and sunbathing. We also got a chance to launch the dinghy and test drive it for the first time. The 20 HP outboard is really powerful. In the late afternoon we went to Ibiza Town about an hour away as the young crew wanted to see if Ibiza's reputation as a Party Town was true. And it was. They have not yet woken up after spending the night in bars and discos. Unfortunately Lisa did not feel well so she had to accompany the "old man" back to the boat at about 1.30 in the morning while the others continued.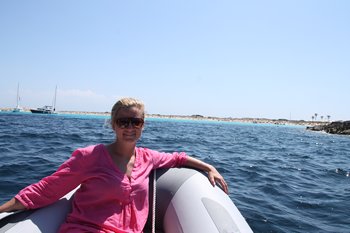 ---