12:31.01N 70:02.29W Aruba

Lisanne
Eric Alfredson
Mon 20 Feb 2017 17:42
Oranjestad Aruba Monday February 20.
We arrived Aruba after a nights sailing from Curacao. In spite of what we expected the clearing in process was very swift and convenient at the customs dock.
Although a part of the Dutch Antilles Aruba is a US holiday paradise with everything geared towards the American holiday market. Large hotels, Casinos and luxury boutiques everywhere. We got a berth at Renaissance Marina belonging to the Renaissance Hotel Group with two large hotels nearby. We had access to all the facilities of the Hotels so for two days we lived luxury life with swimming pools, gym etc. They even had their own private Island where we were taken by a shuttle boat.
On Saturday night we had a great dinner at El Gaucho and then watched  the Carnival Parade. Quite spectacular !
Ann left us on Sunday afternoon to fly home to Sweden and just now Eric and Micheal are preparing the boat for the 2 ½ day trip to Carthagena in Colombia. We plan to leave tonight and arrive on Thursday morning.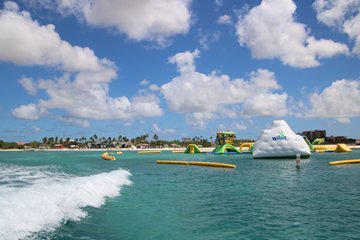 ---