08:45.70S 115:55.90E Marina del Ray, Lombok

Lisanne
Eric Alfredson
Tue 11 Sep 2018 11:05
Sunday September 9,2018.
Since our last report we have sailed from Labuan Bajo in the Komodos to the island of Gili Gede just off Lombok. We have been three on board. The skipper, Matt and our newest crew member Christine from Australia. We have had a very relaxed and fun time with only short day sailings and lots of time to dive and snorkel as well as spending time with some of the other Oyster yachts. Our first stop was at the little island Gili Lawa Darat in the Komodo National Park. There we celebrated Indonesia´s Independence Day. Indonesia became independent in 1945 after first being under Dutch rule and then being occupied by the Japanese during WWll. We also celebrated Christine's birthday. Matt and Eric went diving on their own with a fender floating on the surface but the strong current took hold of the fender and pulled us ½ mile out into the blue. Not a good idea ! We also climbed the island´s peak and flew the drone and got some spectacular pictures and videos.
The island of Sumbawa, our next stop, is very poor. We stopped at a little town called Wera which is famous for its wooden boat building. Traditional wooden ships are built with wooden pegs. Some ships are as large as 30 metres and we enjoyed seeing the boat builders' show off their craftsmanship. The beaches are black sand and as we walked around the village the locals were friendly and welcoming. But it was a very poor village and full of plastic rubbish everywhere just waiting to be flushed out in the ocean at the next heavy rainfall.
We sailed along Sumbawa and over to Lombok. We made several stops. Kananga, Moyo Island, Badas, Labuan Lalar, Ekas, Belongas. We had a great time together with 5-6 of the other Oysters. Beach barbecues, expensive resort dinners and great diving and snorkelling and hiking were some of the highlights.
As we were four 575´s in this group we inevitably started racing against each other. Lisanne proved to be fast as always.
We reached Marina del Ray on Gili Gede which is the Oyster base and the finish of the second part of the rally. We had a fantastic Oyster Party with local entertainers and also a 60-year party for Andy on Meteorite. This was also a farewell party for us as Lisanne now will leave the Oyster World Rally and continue on our own. Possibly together with two other Oysters, Miss Tiggy and Calliope. We will now sail north to Borneo and northern Indonesia and then onwards to Singapore, Malaysia and Thailand where we plan to spend Christmas and New Year. The rest of the Oyster fleet has now started the long trip towards Antigua. First stop will be Cocos Keeling Island in the Indian Ocean.
Matt (Mathijs) has made a 10 min video of the Indonesian trip so far. It can be found on Youtube:
Komodo anchorage Eric and Matt on the top
Christine has arrived Peak performance
Local boat building Soon in the ocean !
Card games, no I-phones Another beach barbecue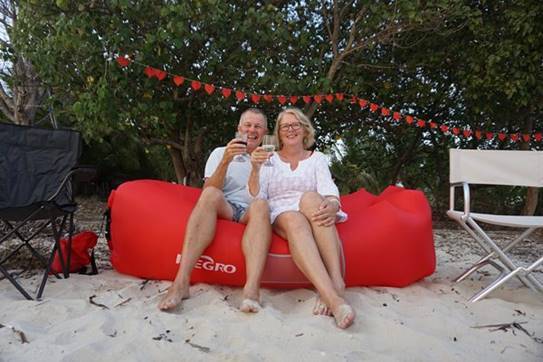 Rob and Jeanette. 40 years anniversary ! Miss Tiggy, the race is on !
Total concentration ? Fun in the sand.
Nicky´s eye clinic, helping the older. Finally a Mahi-Mahi.
Three 575´s chasing the fourth.
---