Tahiti with pictures

Lisanne
Eric Alfredson
Fri 30 Jun 2017 04:10
Thursday June 29 2017.
Hello all Lisanne friends !
After Fredriks' arrival we sailed the short way over to the nearby island of Moorea. This was quite a contrast to the busy Tahiti. The anchorages inside the reef were beautiful and very sheltered. We spent a week there mostly with snorkling and diving. The water inside the reef was chrystal clear and we could watch sharks and stingrays come really close as people were feeding them. The diving was not so exciting though. Not so easy after the Tuamotos.
One day we rented mountain bikes and went up to the Belvedere, a peak from which we could see down to the boat in Cooks Bay. It was a hard trip up the hill in the 30 degrees temperature but so nice to just roll down again.
After a week on Moorea we went back to Tahiti and moored in Marina Papeete in the middle of town. Klas and Mike left the boat and flew home and Freddie and I have lived "city life" on our own for a week. Papeete is a really nice town with a great local market and lots of shops and restaurants. It is very popular to eat at the food trucks down by the waterfront in the evenings. There is lively minibrewery as well which has been very popular with the Oyster crews.
One day we went on a Parasailing trip up the mountain. We went on a 4-weel truck on a dirt road and the view was spectacular. Freddie jumped out together with the instructor and had an amazing 20 minute flight down to the beach. He had a great banana smile in his face when I met him again.
Today is a holiday to celebrate the national day here. They have their own day to commemorate their independence but still being part of France we expect that they will celebrate 14 of July as well. There is a big parade through town and tonight there will be a lot of festivities going on.
Tomorrow we plan to sail back to Moorea again.
Best regards from Eric and Fredrik on board Lisanne in Papeete.
Surfing competition Scooter maniacs
Cooks Bay Freddie "Jesus style"
Friendly sharks and stingrays Sometimes a rain shower-nice
Start early to become outrigger champs Time for a sundowner again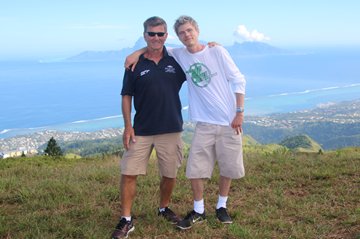 Father and son on the mountain Preparations
And off he goes !
---