10:35.73S 142:14.43E Thursday Island, Torres Strait

Lisanne
Eric Alfredson
Fri 22 Jun 2018 12:38
Friday June 22nd, Midsummer eve.
Happy Midsummer, Lisanne friends,
We have now left the Pacific Ocean and are in the Torres Strait. Anchored at Thursday Island. We had a superfast sail up here from Cairns. 22-25 knots of wind on the beam the whole way. We made only one stop on the way, at Flinders Island.
Thursday Island is a real mix of cultures. Japanese pearlfishers were here for many years and have left their traces. We are also only 80 miles from Papua New Guinea to the north. The town is quite small but has an interesting history with its strategic position in the Torres Strait. We have today climbed the hill to look at the fortifications and walked through the little town which was done in 30 minutes.
Some youngsters had hooked a shark to a piece of wood that the poor shark was dragging behind him. They thought this was amusing. We were appalled and Mike did a heroic rescue when he went inn the dinghy and cut the poor shark loose !
We celebrated Midummer on board Lisanne with some of the traditional Swedish delicacies and a schnapps of course.
Tomorrow we set sail for Darwin, a 750 NM trip westwards. 4-5 days at sea.
No swimming here! Port Douglas marina
Leaving the Pacific, entering Torres Strait. Mike helping the poor shark.
Full control of the Straits Shallow waters, 10-15 m only.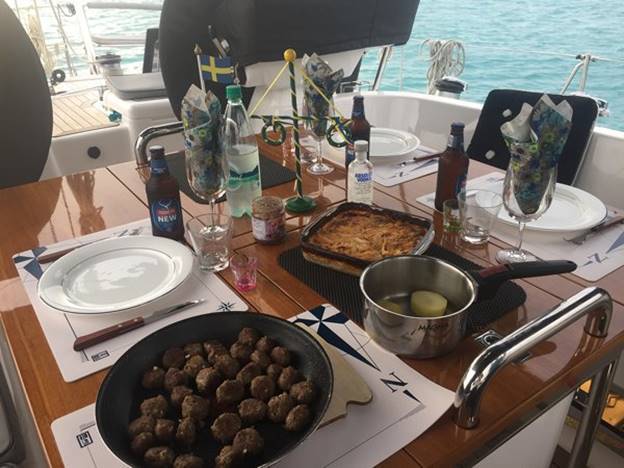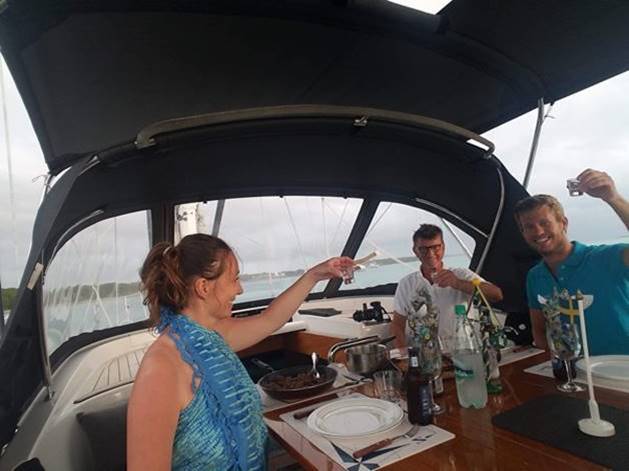 Lots of goodies. Helan går ……….
---